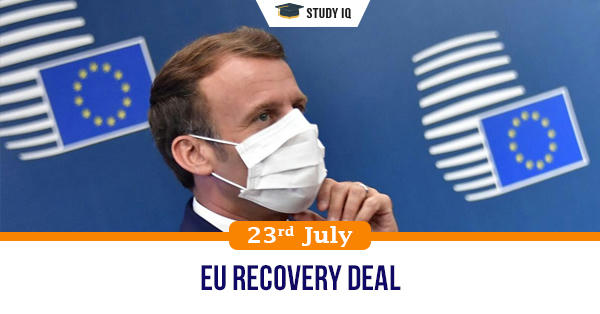 EU recovery deal
Date: 23 July 2020
Tags: Miscellaneous
Issue
On July 21, after five days of hectic discussions, the 27-member European Union reached a historic agreement to counter the debilitating effects of coronavirus on the region's economies.
Background
The EU's GDP is set to contract by close to 8 percent in 2020 thanks to the COVID-induced disruption, even as the COVID death toll has crossed 130,000. This has been harrowing for investors, especially as many countries, such as Italy, Spain, and Portugal, were in poor financial health going into the crisis.
Details
There are three chief elements of the agreement. One, a Euro 1.1 trillion budget for the EU over the next seven years. Two, Euro 360 billion in low-interest loans for countries most hit by Covid-19. Three, Euro 390 billion in grants to the worst affected economies.

Instead of individual countries raising funds, this time around, the EU as a whole will borrow money from the markets — a total of Euro 750 billion (for grants and loans). This is a radical departure, economically as well as politically from the past.

The EU will be able to impose taxes in the region to partially pay for the fund. This, along with the Budget details, will entail an unprecedented level of fiscal coordination among the member states for the next seven years.

Almost a third of the overall package — Euro 500 billion — has been earmarked towards countering climate change. This includes expenditure towards developing clean energy, its use via emissions-free cars, and other such technologies, as well as promoting energy efficiency.

The Global Financial Crisis of 2008-09 and the efforts undertaken in the EU for economic recovery increased differences between better-off EU economies such as Germany and the worse-off ones such as Greece.

Weaker economies were asked to cut back expenditures and raise taxes to meet the onerous austerity requirements of paying back loans. This resulted in massive political push back across many countries.

More than saving the economy of the EU, this deal saves the political idea that is the EU. That's because it has been concluded despite significant differences among a whole host of countries.

Germany has been opposed to massive borrowings that would have the taxpayers paying back for decades. To be sure, under the current arrangement, the borrowings would be done by 2023 and paid back by 2058.

On the other hand are economies such as Italy and Spain, which are most severely hit, urging for a less onerous recovery package.