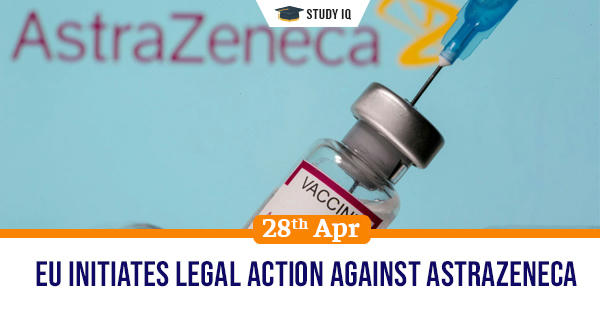 EU initiates legal action against AstraZeneca
Date: 28 April 2021
Tags: Miscellaneous
Issue
The European Union (EU) has initiated a legal action against vaccine manufacturer AstraZeneca over shortfall in delivering the vaccines.
Background
The globe is witnessing a resurgent wave of the viral infection, causing demand for the vaccine as middle income countries grapple to vaccinate their population.
Details
Earlier, several European countries had withdrawn consent for use of AstraZeneca vaccine as several studies had reported blood clots.

The EU had then defended its action of continuing with AstraZeneca by saying its benefits outweighed potential risks.

The company had a deal to deliver about 300 million doses to EU but shortfall in production has forced the company from achieving its objectives.

The reason for shortfall was the lower-than-expected output from the production process and the balance will be arranged from its international supply chain.

The EU has been carrying out vaccination in its major hotspots but shortages in vaccine are delaying the process as it is dependent on AstraZeneca.
Role of Serum Institute of India (SII)
AstraZeneca has deal with SII to produce vaccines for India and other low income countries across the globe.

After a shortage of vaccine, India has temporarily banned the exports of vaccines thereby delaying availability in poor countries.

There is no clear data to indicate that export ban by India has any effects on the shortage caused in European Union.