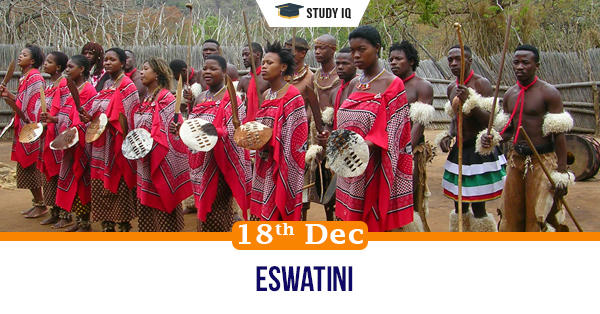 Eswatini
Date: 18 December 2020
Tags: Miscellaneous
Issue
Prime Minister Narendra Modi recently offered his condolences following the death of Eswatini's Prime Minister.
Background
Officially renamed Eswatini in 2018, the landlocked country in southern Africa, is more well-known in India by its former name Swaziland.
Details
In April 2018, King Mswati III of Swaziland announced that he was renaming the country 'the Kingdom of eSwatini'. The name is sometimes also spelled as 'Eswatini'.

The announcement for the name change occurred during celebrations for 50 years of Swazi independence from British rule, that coincided with those for the king's 50th birthday.

When the name change had occurred, the king had explained the move saying there were some who would mistakenly refer to the country as Switzerland.
Eswatini
Eswatini is a landlocked country in Southern Africa. It is bordered by Mozambique to its northeast and South Africa to its north, west, and south. Eswatini is one of the smallest countries in Africa.

After the Second Boer War, the kingdom, under the name of Swaziland, was a British protectorate from 1903 until it regained its independence on 6 September 1968.

The Swazi population faces major health issues: HIV/AIDS and tuberculosis are widespread. It is estimated that 26% of the adult population is HIV-positive. As of 2018, Eswatini has the 12th-lowest life expectancy in the world, at 58 years.