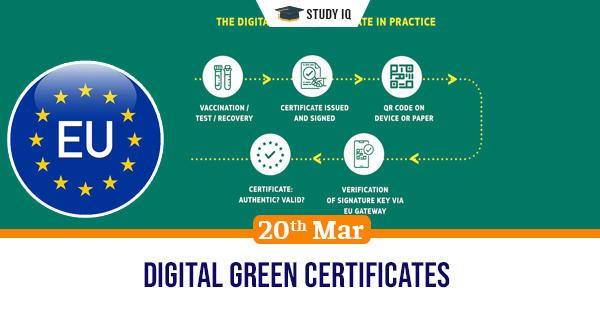 Digital Green Certificates
Date: 20 March 2021
Tags: Miscellaneous
Issue
The European Commission has planned to create a Digital Green Certificate to allow the safe and free movement of citizens within the European Union (EU) amid the COVID-19 pandemic.
Background
The pandemic has created fear among travellers and also economy based on tourism. The measure is one among many to restore confidence among travellers.
Details
A Digital Green Certificate is form of a proof that an individual has either been vaccinated against COVID-19, has obtained a negative test result or has recovered from COVID-19.

The most important feature of the certificate is that it will be in digital or paper format with a complete QR code and will be free of charge.

The certificate can be issued by authorities such as hospitals, testing centres and health organisations.

The proposal is yet to be finalised but once it is done, it will ensure that the restrictions imposed in different areas in EU can be lifted.

An EU member nation will have to notify the commission and justify its decision if it wants to quarantine or test an individual carrying the certificate.

The brand of the vaccine or the kind that is administered will not be in question while issuing the certificate.
Need for Digital Green Certificate
The tourism industry in EU and across the world has been severely impacted due to the spread of the disease and many countries are trying to develop vaccine passport to restore normality.

Countries such as Israel and Denmark have issued specialised certificates for individuals to allow them to use certain restricted facilities.