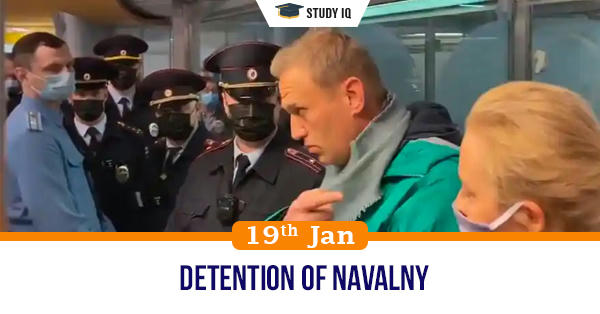 Detention of Navalny
Date: 19 January 2021
Tags: Miscellaneous
Issue
Russian authorities have detained opposition leader Alexei Navalny at Moscow airport after he returned from Germany for the first time since his poisoning.
Background
Navalny fell ill on a flight back to Moscow from Siberia. Tests performed at the German hospital showed the presence of the Soviet-era nerve agent Novichok.
Details
Navalny has maintained that the poisoning was carried out by the Russian authorities, who have denied any involvement in the attack.

Navalny came to prominence in 2008 after he started exposing corruption in Russian politics through a blog. In 2018, he was barred from standing against Putin in the presidential elections.

Navalny has spearheaded many anti-corruption rallies in Russia and is considered to be the face of the opposition in Russia. He has also been arrested on multiple occasions and since he started political campaigning.

It is not the first time that Navalny was faced with such a situation. Last year, Navalny was hospitalised after he suffered an allergic reaction in jail, possibly from an unknown chemical substance.

Recently, Navalny said that he had tricked a Russian intelligence operative into confessing to the botched attempt to kill him in August.

Russia has long been known to use poison as a way of eliminating political dissidents and spies. However, not all assassination attempts have been successful recently, suggesting declining professionalism.

Since the Cold War, the Soviet Union heavily invested in the development of poisons as a way of targetting enemies.

In 1921, Laboratory 12 was established on the outskirts of Moscow and researched poisons, drugs and psychotropic substances, thereby giving the Kremlin an array of tools to choose from.