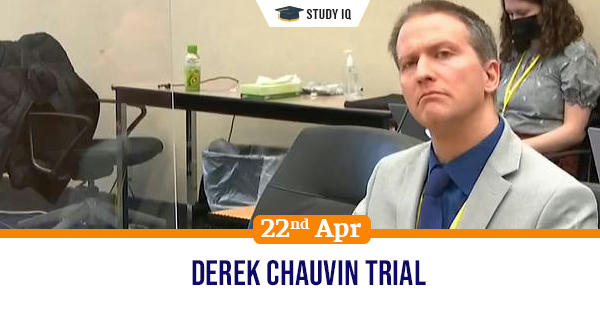 Derek Chauvin trial
Date: 22 April 2021
Tags: Miscellaneous
Issue
The US jury has found former Police officer Derek Chauvin guilty of murdering African-American man, George Floyd.
Background
George Floyd was allegedly killed by the ex-cop when he was handcuffed and pinned on the ground that resulted in his death.
Details
Chauvin has been found guilty of offences like second-degree unintentional murder, second-degree manslaughter, and third-degree murder.

Chauvin can be sentenced up to 40 years in prison. He will remain in police custody till his sentencing.
George Floyd's death
George Floyd was arrested by four police officers after he tried to pay grocery bills using fake currency.

Officer Chauvin pinned Floyd to the ground by pressing his knee on his neck that led to suffocation and death.

After the death, widespread anger spread throughout the world that culminated in the violent Black Lives Matter movement.
Allegations
State attorneys have alleged that Floyd's death was caused by excessive force used by officer Chauvin.

They said that Chauvin overstepped his ambit and caused harm when Floyd was no longer resisting.
Significance of the sentencing
The verdict of guilty is being hailed as historic because US justice and police system have earlier given protection to police officials charged with such incidence of violence against common citizens.

The State of Minnesota has also approved a compensation amount of $27 million for the Floyd family for the wrongful killing.