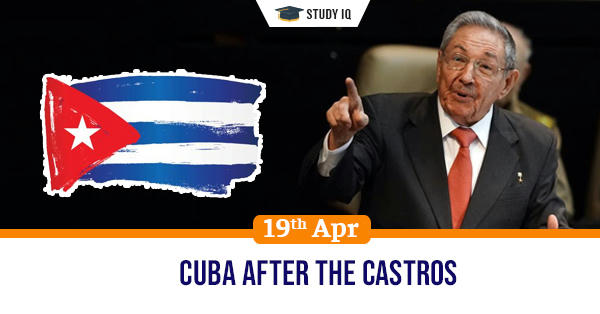 Cuba after the Castros
Date: 19 April 2021
Tags: Miscellaneous
Issue
Raul Castro is set to resign as the chairman of the Cuban Communist party in the upcoming party congress.
Background
Cuba has been ruled by the Castros since the revolution of 1959. Raul took charge of the leadership after Fidel Castro stepped down owing to poor health.
Details
Fidel Castro was one of the most important international figures of the 20th century. He ruled the country for more than four decades.

Soviets and communists across the globe considered him as an icon of modern revolution. He was the inspiration for peasant revolutions in South and Latin America.

Castro was indeed a presence behind the growth of cold war scenario. The Bay of Pigs invasion financed by the US government tried to end his regime but failed.

During the height of the cold war, the Soviet government placed missiles in Cuba to offer protection against external aggression by the US.

This incident is known as the Cuban Missile crisis, which almost started a war between US and the Soviet Union.

Fidel handed over the reins of the country to his brother Raul in 2006. He however held the honorary position of the head until his death in 2016.

Raul Castro will hand over the position of first secretary of the party and the armed forces commander to Miguel Diaz-Canel, who has already inherited the Presidency.
Challenges ahead
Economy remains to be the biggest concern going into the future. The liquidity crisis has been further worsened by the decades old US sanctions.

The new leader will have to take steps to gain public support while not making sweeping changes to the core ideals.

The greater demand for market economy has been advocated by large citizen groups, resulting in small protests across the country.

The internet has brought shift in public opinion. They have gained more voice due to better access to world affairs without relying on controlled government media.