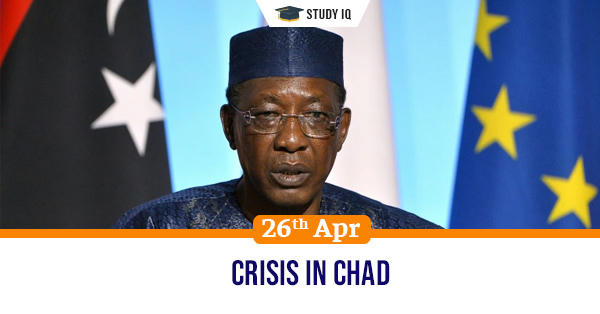 Crisis in Chad
Date: 26 April 2021
Tags: Miscellaneous
Issue
Chad's longest serving President Idriss Deby passed away after sustaining injuries in attack conducted by FACT (Front for Change and Concord in Chad).
Background
Deby's Son has now assumed power under military council by dissolving the elected government and also the country's Parliament.
Details
The move to dissolve government and Parliament has been widely criticised but the military has promised democratic elections once the transition period of 18 months is over.

Chad had been a major West ally in Sahel region to fight Islamic terrorism. France is one such nation with large presence in the area.

Period of rebellion and instability has prompted France to disengage from the area. It has been widely helpful towards Deby's regime to overcome rebellion.

France is looking to establish a stable government so that it can withdraw its troops. This however looks difficult considering the current situation.
French ambitions
France's role in this area has been mainly to defeat Islamic radicals before they can penetrate into Europe. There are also ambitions to train future leaders to bring stability.

France started Operation Barkhane in 2014 to fight Islamic terrorism in Sahel region. It has deployed sophisticated equipments and troops in Chad.

France has tried to provide military and intelligence support to Chad. This support had helped Chad to push back offensive from Libya and Sudan.
Reasons to exit
Operation Barkhane has become infamous for civilian deaths, armed attacks and mine explosions. Civilians are starting to become hostile against foreign troops.

Countries such as Germany and US have declined to send more troops and have decided to cut exiting numbers. More refugees are migrating towards Europe.
Why France is unable to exit?
Withdrawal of French troops will create a security vacuum that cannot be sustained by UN peacekeeping forces. All the previous efforts will be lost.

Increasing unemployment and poverty combined with religious radicalisation has helped terrorists to recruit more members to fight forces.
Challenges
The strongest challenge is faced against FACT, which is rallying to oppose military handover. It has vowed to fight back and re-establish democracy.

There are concerns that future violence and destabilisation could potentially create a humanitarian and refugee crisis.