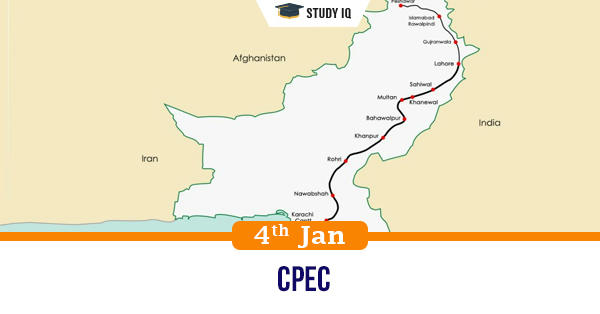 CPEC
Date: 04 January 2021
Tags: Miscellaneous
Issue
The China- Pakistan Economic Corridor or CPEC is running into turbulent waters with China hesitating to increase its investments.
Background
The CPEC was a major instrument of future growth for Pakistan, which is facing bankruptcy and other financial problems.
Details
China–Pakistan Economic Corridor (CPEC) is a collection of infrastructure projects that are under construction throughout Pakistan since 2013.

CPEC is intended to rapidly upgrade Pakistan's required infrastructure and strengthen its economy by the construction of modern transportation networks, numerous energy projects, and special economic zones.

Modern transportation networks built under CPEC will link seaports in Gwadar and Karachi with northern Pakistan, as well as points further north in western China and Central Asia.

According to official statistics, 20% of CPEC is debt-based finance, while 80% of CPEC are investments in Joint Ventures enterprise between Pakistan and China, with the project contributing to 40,000 jobs for local Pakistanis and 80,000 jobs for Chinese.

The major highlight of the project is the construction of railway line from Southern Kashgar in China to Gwadar in Balochistan. It is expected that this project will allow China faster market access to west Asia and Africa.
India's objections
India has objected to CPEC project as major part of the project passes through Gilgit-Baltistan, a disputed region claimed by India as part of Jammu and Kashmir.

The Gwadar port in Arabian Sea is seen as a military asset of China, which will be used to carry out military operations against India in future.

There is also as increasing belief that China is further increasing the 'string of pearl' to have a tactical advantage over India.
String of Pearls
The String of Pearls is a geopolitical theory on potential Chinese intentions in the Indian Ocean region (IOR).

It refers to the network of Chinese military and commercial facilities and relationships along its sea lines of communication, which extend from the Chinese mainland to Port Sudan in the Horn of Africa.

The sea lines run through several major maritime choke points such as the Strait of Mandeb, the Strait of Malacca, the Strait of Hormuz, and the Lombok Strait as well as other strategic maritime centres in Pakistan, Sri Lanka, Bangladesh, the Maldives, and Somalia.

Such a system would encircle India and threaten its power projection, trade, and potentially territorial integrity.

The emergence of the String of Pearls is indicative of China's growing geopolitical influence through concerted efforts to increase access to ports and airfields, expand and modernise military forces, and foster stronger diplomatic relationships with trading partners.