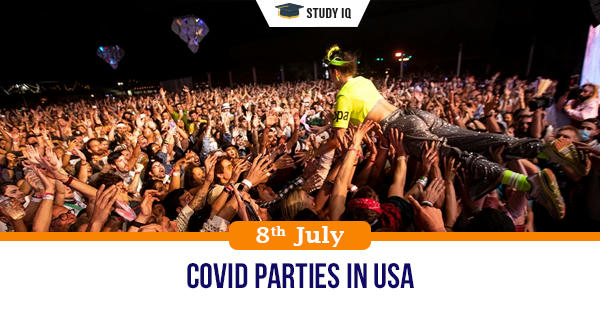 Covid parties in USA
Date: 08 July 2020
Tags: Miscellaneous
Issue
Recently, reports that college students have been organising 'COVID parties' in Alabama, the US, created an uproar on social media.
Background
The developments come at a time when Alabama is one of several states reporting record increases in new coronavirus cases in the past week in what has raised fears of a "second wave" of infections.
Details
The aim behind such parties is quite simple: whoever gets infected first, wins the prize money. The students have intentionally been inviting already infected patients so they can infect others.

The concept of COVID parties involves inviting students who have tested positive for the novel coronavirus along with uninfected people. Then bets are placed on who contracts the virus first. The first person confirmed by a doctor to have been infected after the exposure wins the money made off the ticket sales.

The city is working on getting the word out and cracking the whip on such parties. It also passed an ordinance making masks mandatory while stepping out last week.

What has made the task difficult for authorities to track how many students have been infected is the fact that many of them have out-of-state addresses and just go to school in Alabama.

A section of people in the US has not been taking the virus seriously since the beginning of the outbreak in the country.

Large protests where people turned up with guns demanding that the lockdown be lifted were held about two months ago.