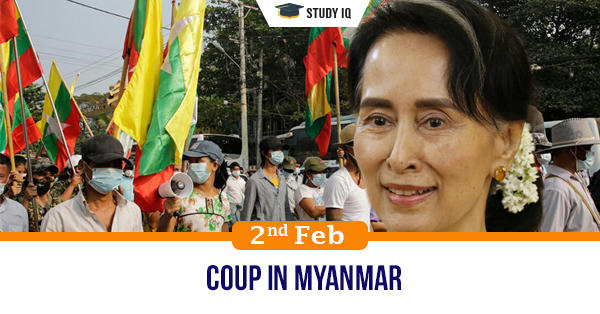 Coup in Myanmar
Date: 02 February 2021
Tags: Miscellaneous
Issue
The Myanmar military grabbed power in a coup, ahead of a scheduled meeting of the country's newly elected Parliament.
Background
Leaders of the civilian government including Aung San Suu Kyi have been put under house arrest.
Details
The military takeover came after a week of rumours and speculation ahead of the scheduled opening of Myanmar's newly elected lower house of Parliament.

Amid heightened civilian military tensions, the Myanmar military has put out a statement declaring it would protect and abide by the Constitution.
Reasons for coup
The military has alleged that the general elections held in November 2020 were full of irregularities and that therefore, the results are not valid.

The military had demanded that the United Elections Commission (UEC) of Myanmar or the government, or outgoing parliamentarians prove at a special session before the new parliament convenes on February 1, that the elections were free and fair.
Democratic transition
Myanmar's democratic transition had been a work in progress. The results of the 2020 election were being seen by the NLD as a mandate for its plan of constitutional reform.

But this was never going to be easy, given the tight constitutional restrictions for amendments.