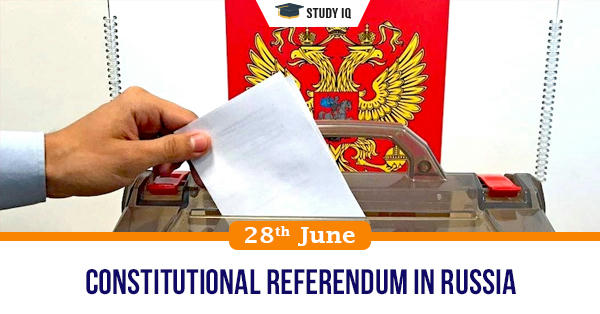 Constitutional referendum in Russia
Date: 28 June 2020
Tags: Miscellaneous
Issue
Russian President has proposed substantial amendments to Russia's constitution for which he suggested holding a nation-wide constitutional referendum.
Background
Many political opponents have accused Putin of political manipulation that would allow him to effectively rule for life through this amendment.
Details
In January, Putin formally submitted the proposed bill to the State Duma, the lower house of the Federal Assembly of Russia, that approved this proposal in March. Days later, the Constitutional Court of Russia also gave its approval to the proposed bill.

The proposed amendments included clauses that the heads of law enforcement agencies in Russia must be appointed by the president in consultation with the Federation Council and that the upper house of Russia's Parliament would be able to propose the dismissal of federal judges and that in specific cases, the Federation Council would have the right to remove judges of the Constitutional and Supreme courts following proposals by the Russian president.

Most importantly, it would allow Putin to occupy the highest office in the country post 2024, when his term is set to expire, till at least 2036.

Other proposed amendments include provisions for the Russian constitution to take over international law. Individuals occupying high government positions, including those in the judiciary would not be allowed to have foreign citizenship or residency.

A presidential candidate would have to have lived in Russia for at least 25 years and cannot ever have held foreign citizenship or residency.

The government had announced that in this referendum, individuals holding Russian citizenship in eastern Ukraine will also be permitted to vote.
Referendum
A referendum is a direct and universal vote in which an entire electorate is invited to vote on a particular proposal and can have nationwide or local forms. This may result in the adoption of a new policy or specific law.