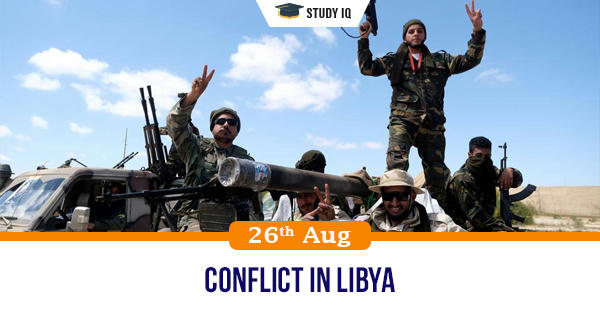 Conflict in Libya
Date: 26 August 2020
Tags: Miscellaneous
Issue
Rival authorities have backed a ceasefire in Libya, raising the prospect of a de-escalation in the country's long-running conflict.
Background
The conflict has cost tens of billions of dollars in lost oil revenue, damaged infrastructure, and sharply reduced living standards.
Details
Khalifa Haftar's self-proclaimed Libyan National Army (LNA) has been battling forces aligned with the Tripoli-based, internationally recognised Government of National Accord (GNA).

Both sides are formed from local armed factions, whose shifting loyalties have helped steer the course of the conflict. Both have depended heavily on foreign allies pursuing strategic and political goals in Libya.

Turkey stepped up its military support for the GNA in January after signing a maritime deal with Tripoli, allowing it to repel a 14-month LNA offensive against the capital.

Libya's fault lines surfaced nine years ago as local groups took different positions in the NATO-backed uprising that toppled Muammar Gaddafi.

An attempted democratic transition slid out of control as armed groups built local power bases and coalesced round rival political factions.

After a battle for Tripoli in 2014, one faction moved east and set up a parallel government and institutions. It recognised Haftar as military chief as he began a long campaign against Islamist groups and other opponents in Benghazi.

Front lines are drawn at LNA-held Sirte, roughly the midpoint of Libya's Mediterranean coastline and a gateway to major oil ports. The GNA and affiliated groups control Libya's densely populated northwest and the LNA holds the east.

The United Nations is pushing the two sides to resolve issues including oil revenue distribution, the make-up of a unity government and the status of armed groups.

OPEC member Libya holds Africa's largest oil reserves, producing 1.6 million barrels per day before 2011. Blockades have caused output to fluctuate sharply.