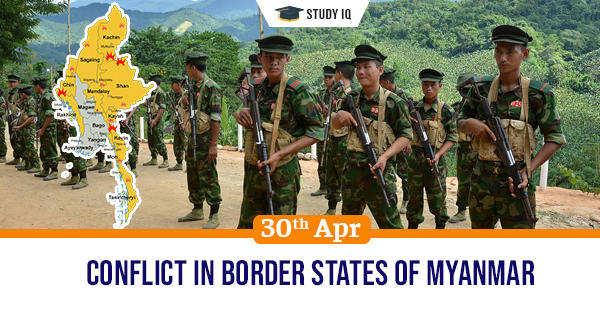 Conflict in border states of Myanmar
Date: 30 April 2021
Tags: Miscellaneous
Issue
Several ethnic organisations are carrying out their own resistance against the military junta of Myanmar as a form of opposition.
Background
The Military coup in Myanmar suspended the civilian government and established dictatorship. Majority of citizens are still opposing the regime.
Details
The Karen National Union (KNU) has seized several outposts of the military in the Karen region bordering Thailand. The military has ordered airstrikes in this region.

Kachin Independence Army has been showing resistance in the Kachin state at the tri-junction of Myanmar, China and India. Ethnic Kachins have been displaced in large numbers.

China and Defence Force (CDF) conducted an operation that led to death of about 15 Myanmar military personnel in the Chin state bordering Mizoram.
Federation goals
Myanmar is made up of the Bamar majority and many smaller ethnic minorities. The only way peace could be maintained was through a federation.

Except for a ceasefire agreement, the NLD government could not do much in this field due to aggressiveness of the military.

The army gains its powers from the division between the Bamars and the rest of minorities. It had tried to reign in rebels but failed to do so.

The rebels who signed the ceasefire agreement have joined hands with the pro-democracy protestors to attack the military.

The rebels could force military to focus on mini-battles at the border areas so that pro-democracy protestors maybe spared.
Demands
The ASEAN has proposed a plan to reduce violence by bringing together different sections such as rebels, civilian groups and the military.

The rebels have opposed this plan as it does not include release of Aung San Suu Kyi and other political leaders.

Protestors have also demanded that the 2008 constitution drafted and voted by the military should be scrapped and a new one framed.