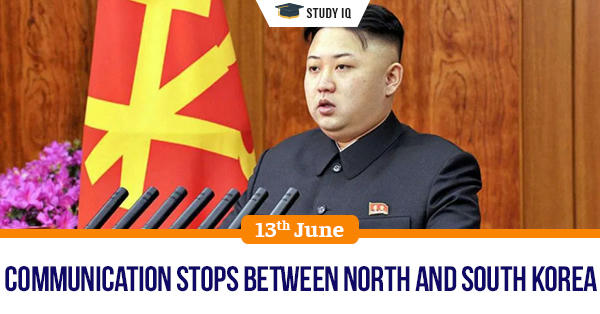 Communication stops between North and South Korea
Date: 13 June 2020
Tags: Miscellaneous
Issue
North Korea has announced that it will cut off all ties, including communication with South Korea amid souring relationship between the two countries.
Background
Some other experts believe this break in communication may be because of anti-DPRK propaganda being launched into North Korea from activists in South Korea.
Details
Despite conflict between the two countries, at least 49 hotlines have been established between Seoul and Pyongyang to facilitate diplomatic talks, reduce tensions and military conflict, to coordinate air and sea traffic as well as to engage in cross-border economic projects etc.

When relations deteriorate between the two countries, these lines of communication are stopped between the two countries, till the situation improves.

The lines were last cut in 2016 after diplomatic relations between Seoul and Pyongyang deteriorated, coinciding with Donald Trump becoming the US president.

Most recently, the focus of Pyongyang's ire appears to be projects of activists and North Korean defectors in South Korea who send anti-DPRK leaflets across the border to North Korea.

Along with these propaganda leaflets, other items such as rice, medicines and Bibles have also been sent across by activists using balloons.

Long-time observers of the Korean Peninsula believe this recent development may just be about economic pressures that Pyongyang is facing, particularly at a time when the coronavirus outbreak that impacted the world economy.

Some researchers believe severing communication lines may have been initiated to add pressure on Seoul to revive inter-Korean economic projects that would help Pyongyang, while at the same time, force Seoul to stop activists and defectors from launching propaganda into the country.

These inter-Korean tensions come at a time when North Korea and the US have reached an impasse on negotiations on nuclear capabilities of North Korea, discussions that had been aided by South Korea.