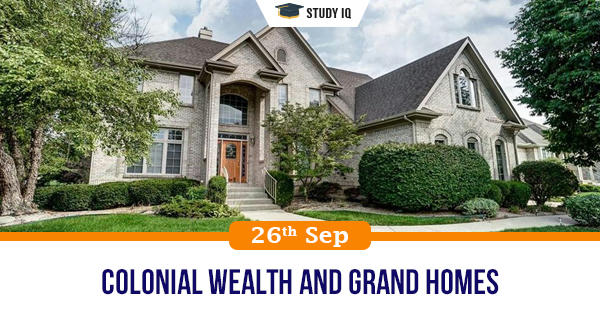 Colonial wealth and grand homes
Date: 26 September 2020
Tags: Miscellaneous
Issue
British charity organisation National Trust released a report on September 22 stating that many historical properties it manages have a colonial past and links to slavery.
Background
The report comes amid recent protests in Europe and the United States that have seen the pulling down of statues of many historical figures now seen as controversial.
Details
The organisation released an 'Interim Report on the Connections between Colonialism and Properties now in the Care of the National Trust, Including Links with Historic Slavery'.

The study was commissioned in September 2019. In the report, the Trust reveals the connection that 93 historic places in its care have with colonialism and slavery.

The report broadly focuses on the global slave trade and the compensation for slave ownership, as well as the English East India Company and the British Raj.

Some of Britain's most prominent and historic properties, including Chartwell in Kent, the family home of former Prime Minister Winston Churchill for over four decades, and Bateman's, the residence of legendary novelist Rudyard Kipling from 1902 until his death, are part of the list.

Following the English East India Company's victory over Mughal emperor Shah Alam II in the Battle of Buxar in 1764, the Company was allowed to collect taxes directly from the people of Bengal, Bihar and Orissa.

With the right to raise revenue, employees of the Company serving in India – the most famous among them being Robert Clive – made fortunes for themselves.

The report states that when the employees returned, they also flooded Britain with "associated objects, furnishing its homes, forging fashions, identities, and cultural change".

Although the report has evoked mixed reaction from the British public, many members of the Trust have threatened to withdraw their membership and cancel their subscription.
National Trust
Founded in 1895 by English social reformer Octavia Hill, civil servant Robert Hunter and conservationist Hardwicke Rawnsley, the 125-year-old National Trust is one of Europe's largest conversation charities.

The organisation, through its million-strong network of members and volunteers, takes care of, among other things, hundreds of historic buildings, gardens, parks, and miles of coastline and countryside sites.