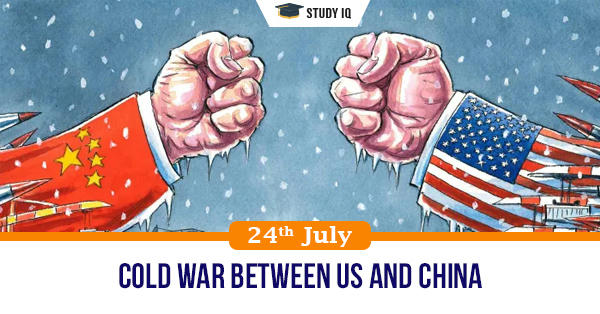 Cold war between US and China
Date: 24 July 2020
Tags: Miscellaneous
Issue
The US government has ordered China to close it Houston consulate after tensions between China and the US escalated since diplomatic normalisation.
Background
In defence, trade, technology, human rights, and other categories, actions, and reprisals by one side or the other have escalated sharply under President Donald Trump's administration.
Details
The administration is even weighing a blanket ban on travel to the United States by the members of China's ruling Communist Party and the possible expulsion of any members currently in the country.

The severity of the confrontation has jumped the wall from specific and solvable challenges to a clash of systems and values.

Trump and his subordinates have blamed China for spreading the coronavirus, which first emerged in the central Chinese city of Wuhan.

They have repeatedly described the virus in racist and stigmatizing terms, calling it the Wuhan virus, China virus, and Kung Flu.

Trump had said China must be held fully accountable. The administration also has defunded and ordered a severing of ties with the World Health Organization, accusing it of having abetted shortcomings in China's initial response to the outbreak.

Chinese propagandists also have promoted the counter-theory that US soldiers may have been the original source of the virus during a visit to Wuhan last October.

The Trump administration has increasingly challenged China's assertions of sovereignty and control over much of the South China Sea, including vital maritime shipping lanes.

US has called for international blacklisting of Huawei, China's largest technology company, calling it a front for China's efforts to infiltrate the telecommunications infrastructure of other nations for strategic advantage.

Last November, Trump signed legislation that could penalise Chinese and Hong Kong officials who suppress dissent by democracy advocates in Hong Kong, which was guaranteed some measure of autonomy by China.

This month the Trump administration imposed sanctions on a number of Chinese officials, including a senior member of the Communist Party, over human rights abuses by China in the Xinjiang region against the country's largely Muslim Uighur minority.

In 2018 Trump signed a bill that penalizes Chinese officials who restrict U.S. officials, journalists and other citizens from going freely to Tibetan areas.