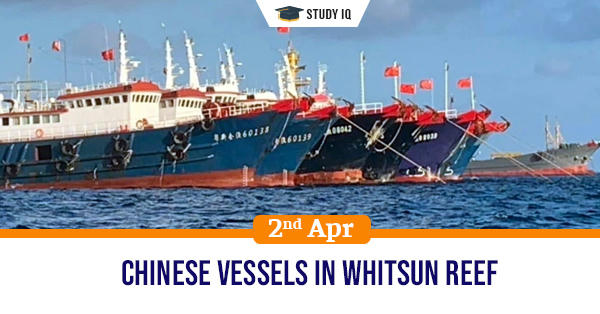 Chinese vessels in Whitsun reef
Date: 02 April 2021
Tags: Miscellaneous
Issue
More than 200 Chinese fishing vessels have been stationed at the Whitsun reef in the South China Sea.
Background
The Whitsun reef is a part of Philippines' Exclusive Economic Zone but China claims it as its own territory under the nine dash line.
Details
Philippines has been extremely vigilant and has increased the presence of naval ships in order to keep a vigil over the vessels.

If China becomes successful in establishing its presence, Philippines is expected to lose another fishing ground after the Scarborough shoal.
Chinese aggression
China has been accused of exploiting the crisis to increase its expansionist behaviour in South China Sea. It had sunk a Vietnamese fishing vessel and stopped Malaysian oil exploration.

The USA had deployed its naval resources to prevent China from increasing its aggressiveness.
The dispute
Many South-East Asian countries along with China have had a long dispute in South China Sea. The region is supposed to contain large amount of petroleum and also marine resources.

The main issue is regarding adhering to Exclusive Economic Zone principle of international law. China has been ignoring the law for its own gains.

China has cited its historical and unaccounted nine dash line to claim the whole region. The arbitration process gave judgement in favour of Philippines but China has rejected the judgement.

There has been a concern that China may twist rules according to its needs. In future, it may convert the shoal into a residential zone and claim it.

Considering that fishermen have low resources to station at a place without operating, the move looks to be a deliberate attempt by Chinese officials.