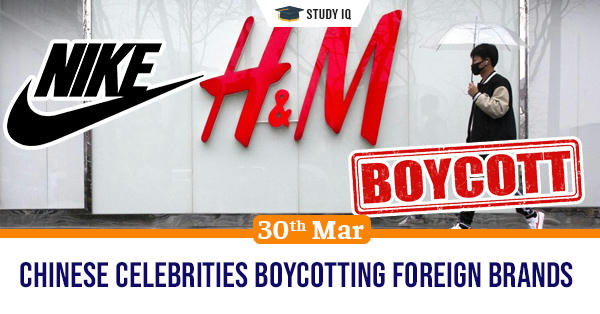 Chinese celebrities boycotting foreign brands
Date: 30 March 2021
Tags: Miscellaneous
Issue
Chinese celebrities have cancelled their brand sponsorship deals with many foreign companies such as H&M and Nike.
Background
The move was initiated after several western governments have alleged forced labour and human rights violations by Chinese authorities in Xinjiang.
Details
Chinese e-commerce apps have dropped H&M brands from their website. The smartphone app of H&M was also removed from app store.

Chinese tech giant Tencent has removed costumes designed from Burberry from mobile phone game to fuel the issue.

The communist party's youth wing has also posted previous quotes by H&M, where they have expressed concerns about forced labour for producing cotton in Xinjiang.

China has been H&M's third largest market after Germany and USA. The major profits and market share are obtained from China.

Chinese media has also criticised statements made from other international brands such as Nike, Adidas, Burberry and New Balance regarding situation in Xinjiang.

The issue of boycotting H&M and celebs cutting ties with the brand has grown so much that, March 25th has been dubbed the Contract termination day.

Many Chinese celebs have joined the movement against Western fashion labels and have posted with the hashtag 'I support Xinjiang's cotton'.
Xinjiang cotton
About 87% of all cotton products made in China make use of cotton obtained from Xinjiang region.

This means that one in five cotton garments globally sold will contain cotton raw materials from this region.

The Trump administration had banned import of all cotton and tomato products from Xinjiang citing human rights violations against Uighur Muslims.
Reasons
The statements made by foreign labels were more than a year old. The government used these statements after fresh sanctions were imposed by the European Union, the United Kingdom, the United States and Canada.

This incident of boycott was not new. Earlier celebs had cut ties with companies such as Givenchy, Coach and Versace.

This was because these labels had sold T-shirts that had listed Hong Kong and Macau as autonomous countries.