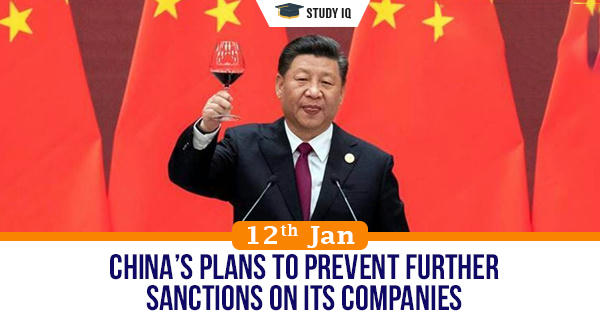 China's plans to prevent further sanctions on its companies
Date: 12 January 2021
Tags: Miscellaneous
Issue
China has announced new set of rules to protect their companies from being blacklisted by US authorities citing National security threat.
Background
The move by China comes just before the implementation of an executive order signed by President Donald Trump that prohibits US investments in Chinese firms allegedly owned or controlled by the Chinese military.
Details
As US-China relations have continued to sour over the past year, a host of Chinese companies have faced Washington's wrath.

Three large Chinese telecom companies– China Mobile, China Telecom, and China Unicom Hong Kong, which allegedly have ties with the Chinese military, will be delisted by the New York Stock Exchange (NYSE).

The US has targeted several Chinese tech giants, including TikTok and Huawei. China's largest chipmaker Semiconductor Manufacturing International Corporation (SMIC) and drone manufacturer DJI were also blacklisted.

Trump administration is now believed to be contemplating prohibiting Americans from investing in Alibaba and Tencent, China's two most valued publicly listed companies in the US.
China's plans
Chinese authorities would be able to issue orders declaring that individuals or companies in the country do not need to comply with foreign restrictions.

Chinese entities can now sue for compensation if their interests are harmed as a result of foreign sanctions that "improperly prohibit or restrict" them, and Chinese courts would be able to punish global companies abiding by such foreign laws.

It is unclear whether the rules are only meant against sanctions aimed at China specifically, or against other US adversaries such as Russia and Iran, but which end up affecting Chinese companies.
Implications
Companies with significant business interests in China may need to tread carefully to avoid being subject to claims by counterparties in China.

The rules are expected to put multinational companies in a double bind, as they would have to choose between complying with two conflicting compliance regimes.