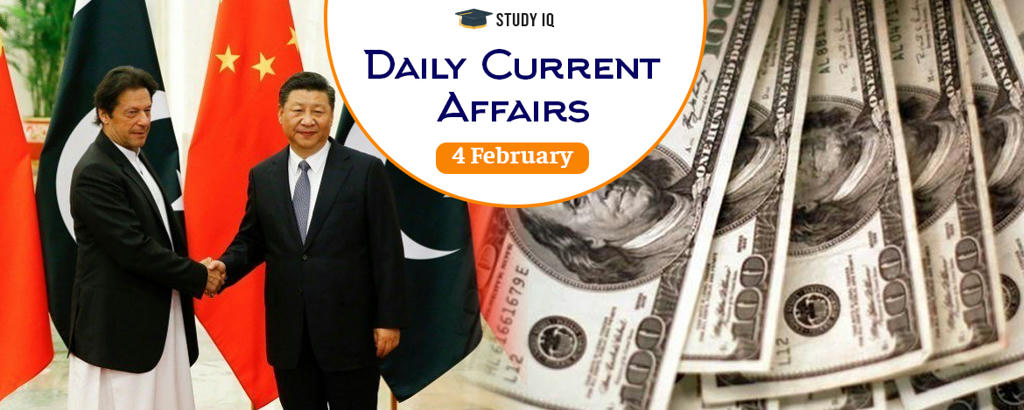 China to provide $2.5 billion loan to Pakistan
Date: 04 February 2019
Tags: Miscellaneous
China has agreed to provide US $2.5 billion in loans to Pakistan to boost its depleting foreign exchange reserves. It will place $2.5 billion in deposits with Pakistan's central bank viz. State Bank of Pakistan (SBP).The money is coming as part of Pakistan Government's strategy to secure breathing space till time its macroeconomic stabilisation measures take effect.
With this, China's contribution in this fiscal year alone will be around $4.5 billion. In July 2018, China deposited $2 billion with SBP. In past five years, China has emerged as Pakistan's single largest saviour in times of economic crisis.
What is the issue?
Pakistan is struggling to maintain its foreign exchange (Forex) reserves and is nearly broke with drying up of foreign cash reserves and mounting external debt.

Its $8.12 billion reserves, which are below minimum level prescribed by International Monetary Fund (IMF) and World Bank (WB), are sufficient to cover only seven weeks of imports.

Due to this, WB, IMF and Asian Development Bank (ADB) are not providing loans or bailing out Pakistan for budget financing.
How it Pakistan tackling this issue?
Pakistan has secured $14.5 billion worth of commitments from China, Saudi Arabia and UAE as emergency loans to avoid looming default and bridge external financing gap.

Saudi Arabia has agreed to provide $6 billion financial assistance package to Pakistan, which included $3 billion in short term loans at interest rate of 3.18%. It has already disbursed $3 billion.

UAE has agreed to provide $3 billion in loans at interest rate of around 3% and has already disbursed $1 billion.

But despite $4 billion inflows from Saudi Arabia and UAE during past two months, gross official foreign currency reserves of Pakistan has stayed at only $8.12 billion as of December 2018 end.

Pakistan also has launched Diaspora bonds at interest rates of 6.25% for three years and 6.75% for five years to arrange funds for balance of payments support.
It will be also launching two more financial instruments viz. Sukuk bonds (Islamic bonds) and $3 billion Euro bonds to meet external sector financing requirements.