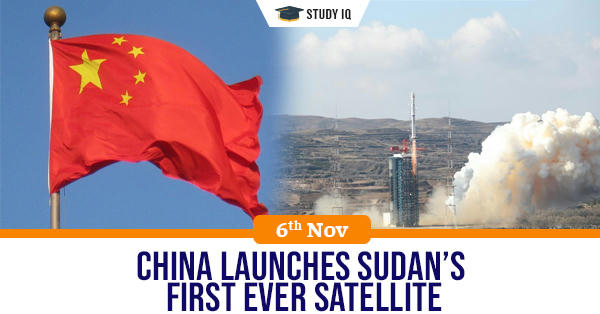 China launches Sudan's first ever satellite
Date: 06 November 2019
Tags: Miscellaneous
Issue
Sudan's first ever satellite for conducting research in military, economic and space technology has been launched by China, according to official sources.
Background
Sudan, which is battling an economic crisis, has been involved in a national space programme for decades covering activities such as remote sensing and geoinformatics
Details
The satellite aims to develop research in space technology, acquire data as well as discover natural resources for the country's military needs.

The officials also announced that the satellite will be operational soon and will be monitored from ground station in Sudan.
CNSA
China National Space Administration is the national space agency of China. It is responsible for the national space program and for planning and development of space activities.
Sudan
South Sudan
South Sudan, officially known as the Republic of South Sudan, is a landlocked country in East-Central Africa.

It gained independence from the Republic of the Sudan in 2011, making it the most recent sovereign state with widespread recognition. Its capital and largest city is Juba.

South Sudan is bordered by Sudan to the north, Ethiopia to the east, Kenya to the southeast, Uganda to the south, the Democratic Republic of the Congo to the southwest and the Central African Republic to the west.