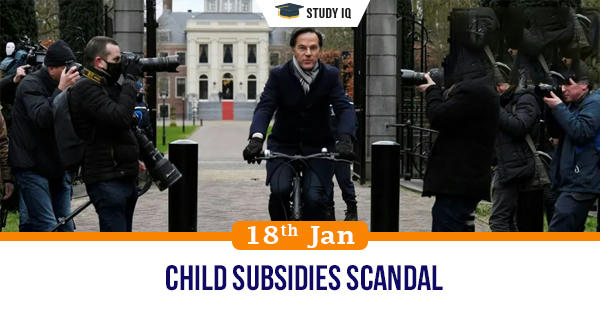 Child subsidies scandal
Date: 18 January 2021
Tags: Miscellaneous
Issue
The government of Netherlands collectively resigned amid an escalating scandal over the mismanagement of childcare subsidies.
Background
This scandal is expected to affect the outcome of general election in Netherland, expected to be held after two months.
Details
A parliamentary inquiry found that the country's tax service had wrongly accused over 26,000 Dutch parents of fraud since 2012, and ordered as many as 10,000 of these families to repay tens of thousands of euros worth of child subsidies.

Due to the result of inquiry, many families faced unemployment, bankruptcy and divorces. This also led to separation of families.

The fraud investigations into the families were often triggered by something as simple as an administrative error, such as a missing signature.

The Dutch tax office admitted to singling out at least 11,000 dual national families for more stringent checks, sparking a renewed debate about systemic racism within the Dutch bureaucracy.
Affected group
Most of the affected families belonged to ethnic minorities and dual nationality holders. This indicates presence racial discrimination.
Implications
Many families took legal action against several ministers from the outgoing coalition, accusing them of criminal negligence by failing to adhere to the principles of good governance, discrimination and violating children's rights.
The Dutch government has announced a compensation of at least 30,000 euros for each of the families falsely accused of fraud.