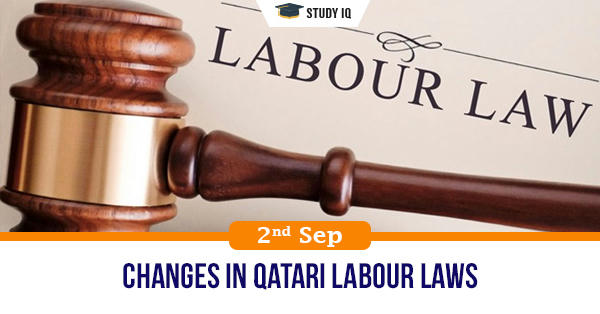 Changes in Qatari labour laws
Date: 02 September 2020
Tags: Miscellaneous
Issue
Recently, Qatar has brought about a change in its labour laws, scrapping rules that made it compulsory for workers to take owner's permission before switching jobs.
Background
The 'kafala system' or a "no objection certificate" made migrant workers get permission from their employers before changing jobs.
Details
The second reform involves increasing the minimum wage by 25 per cent to $274 or 1000 Qatari riyals and an additional 300 QAR for food and 500 QAR for accommodation in case not provided by the company.

These reforms are now applicable to workers of all nationalities and in all sectors, including domestic workers who were previously excluded.

Qatar is hosting the 2022 FIFA World Cup and in the run-up to the sporting event that is viewed by more than half of the global population, the country has faced flak for its labour laws, seen by many as being exploitative of migrant labourers.

The International Labour Organisation (ILO) has hailed the move and notes that Qatar is the first country in the region to dismantle the "kafala" sponsorship system in Gulf region.

For unskilled workers, this means depending on their employers for such sponsorships. It was then exploited for commercial gains.

ILO further said that the introduction of the non-discriminatory minimum wage would affect over 400,000 workers in the private sector and will increase remittances in the workers' country of origin.