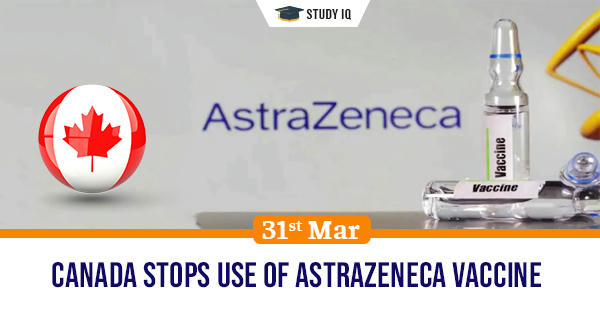 Canada stops use of AstraZeneca vaccine
Date: 31 March 2021
Tags: Miscellaneous
Issue
Canadian authorities have asked health officials to not use AstraZeneca Covid-19 vaccine for people below the age of 55.
Background
A large number of adverse health reactions were identified in recipients of AstraZeneca vaccine prompting changes in use.
Details
The expert committee recommended that until a detailed study is conducted to identify causes, the use of vaccine for below age of 55 should be paused.

Individuals above the age of 55 can continue to get the vaccine as the adverse reaction was observed mostly in younger people.

Several European countries had stopped use of AstraZeneca vaccine after reports of blood clots. The WHO recommended use of vaccine as its benefits outweigh losses.
Reason for stoppage
Canada was forced to stop administering this vaccine to population above 55 after an adverse condition known as Vaccine-Induced Prothrombotic Immune Thrombocytopenia (VIPIT) was identified.

This condition has led to formation of rare condition where blood clots are formed. This is because the vaccine creates anti-bodies that activate platelets, which then forms clots.

The cases associated with VIPIT have been majorly among women under the age of 55. The conditions start within 4 to 16 days of vaccine administration.
Symptoms
Symptoms of this condition include shortness of breath, chest pain, leg swelling, persistent abdominal pain. Other conditions such as skin bruising blurred vision and worsening headaches are identified.