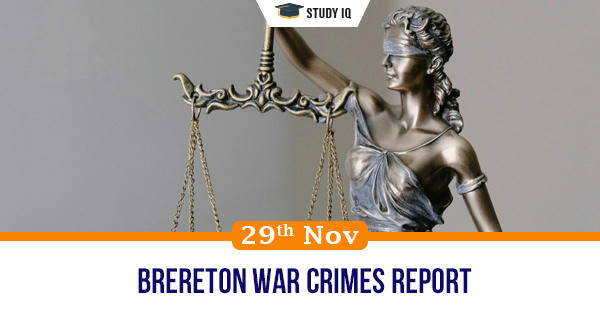 Brereton war crimes report
Date: 29 November 2020
Tags: Miscellaneous
Issue
The Australian army has moved to discharge certain number of soldiers for committing war crimes during their operation in Afghanistan.
Background
The findings are part of a special report known as "Brereton war crime report" that was able to highlight role of special forces in war crimes.
Details
The report was released after four-year enquiry led by Major General Paul Brereton following whistle blowing by media on alleged killing of unarmed civilians.

The enquiry found credible evidence of murder of 39 prisoners, farmers, and other civilians by the members of Australian army.

The soldiers committed gruesome acts such as slitting throats, keeping kill counts, and planting phones and weapons to cover up their actions.

Some of them were involved in a ritual known as "blooding" where junior soldiers are made to shoot prisoners as their first kill.

The Prime Minister of Australia has reportedly apologised to the President of Afghanistan for the acts committed by the soldiers.
War crimes
A war crime is an act that constitutes a serious violation of the laws of war that gives rise to individual criminal responsibility.

Examples of crimes include intentionally killing civilians or prisoners, torturing, destroying civilian property, taking hostages, performing rituals, raping, using child soldiers, pillaging etc.

Additionally, the Geneva Conventions in 1949 defined new war crimes and established that states could exercise universal jurisdiction over such crimes.
International Criminal Court
The International Criminal Court (ICC) is an intergovernmental organization and international tribunal that sits in The Hague, Netherlands.

The ICC is the first and only permanent international court with jurisdiction to prosecute individuals for the international crimes of genocide, crimes against humanity, war crimes, and the crime of aggression.

The ICC lacks universal territorial jurisdiction, and may only investigate and prosecute crimes committed within member states, crimes committed by nationals of member states, or crimes in situations referred to the Court by the United Nations Security Council.

Countries have to sign Rome Statute to become members. India, US, and many other countries are not members of ICC.