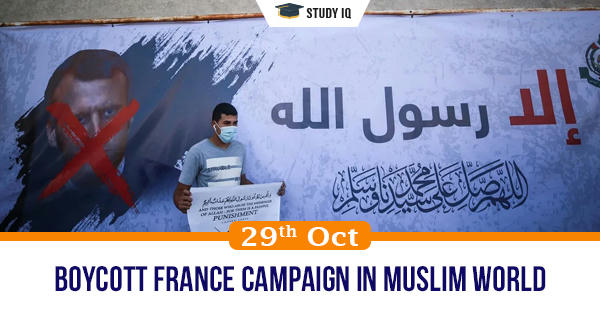 Boycott France campaign in Muslim world
Date: 29 October 2020
Tags: Miscellaneous
Issue
Comments made by French President Emmanuel Macron in the aftermath of the beheading of a local schoolteacher this month by a teenaged extremist have caused a uproar in many parts of the Muslim world.
Background
The remarks have been perceived as "anti-Islam" and have led to calls for boycotting French brands, and hashtags such as #BoycottFrenchProducts, #MacronApologizeToMuslims, and #NeverTheProphet have been trending on social media.
Details
Even before the teacher's killing, Macron had defended the Charlie Hebdo magazine, saying that the right to free speech included the "right to blaspheme", and pledged to fight against what he described as "Islamic separatism" in France.

Macron had also said the Islam was "in crisis" all over the world, and announced a drive to separate religion from education and the public sector in the country.

The first nation whose leadership openly challenged Macron's comments was Turkey, a country which has bickered with France over multiple issues in the recent past, including Libya, the Nagorno-Karabakh dispute, and drilling rights in the Eastern Mediterranean.

Erdogan upped the ante by calling on Turks to boycott French goods. The rhetoric reverberated in other Muslim-majority countries, and many decided to follow suit.

In Kuwait, some supermarkets removed French products from their shelves, and there were calls in Saudi Arabia and the UAE to boycott the Carrefour grocery chain.

Jordan and Pakistan summoned the French ambassadors to their countries for voicing displeasure. The Grand Imam of Al-Azhar, Egypt's top cleric, also condemned France.

Saudi Arabia also condemned the cartoons, but did not echo calls for taking action against the images being displayed.

Protests against France were organised in a number of other places, including Syria, Libya, Gaza, Iraq, and Bangladesh.

Macron faces re-election in 2022, and experts say that the leader is appealing to France's rightwing voters, given a series of electoral losses this year.