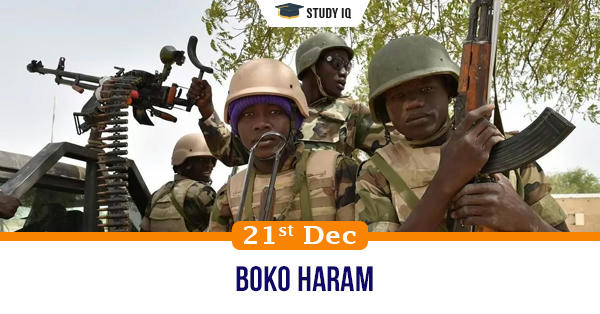 Boko Haram
Date: 21 December 2020
Tags: Miscellaneous
Issue
More than 300 schoolboys abducted last week by armed men in northwest Nigeria have been released. It has been understood that the act was carried out by a radical organisation called 'Boko Haram'.
Background
The jihadist group carried out the attack because it believes Western education is un-Islamic and a sin. It wants to impose strict regulations.
Details
For more than 10 years, Boko Haram has engaged in a bloody campaign to introduce strict Islamic rule in Nigeria's north.

Thousands have been killed and more than 1 million have been displaced by the violence. The group has been mainly active in northeast Nigeria.
Boko Haram
The Islamic State in West Africa commonly known as Boko Haram, is a jihadist terrorist organization based in north-eastern Nigeria, also active in Chad, Niger and northern Cameroon.

When Boko Haram first formed, their actions were nonviolent. Their main goal was to purify Islam in northern Nigeria. Since March 2015, the group has been aligned with the Islamic State of Iraq and the Levant.

The group have carried out mass abductions including the kidnapping of 276 schoolgirls from Chibok in April 2014.

Corruption in the security services and human rights abuses committed by them has hampered efforts to counter the unrest.

Boko Haram was founded upon the principles of Salafism which advocates strict adherence to Sharia law.

It developed into a Jihadist group in 2009. The movement is diffuse, and fighters who are associated with it follow the Salafi doctrine. Their beliefs tend to be centered on strict adherence to Wahabism.