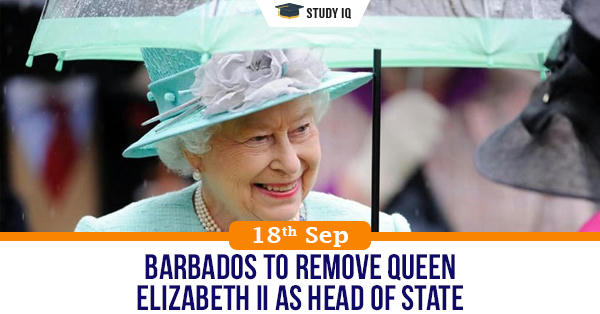 Barbados to remove Queen Elizabeth II as head of state
Date: 18 September 2020
Tags: Miscellaneous
Issue
Queen Elizabeth II, who is the head of state in the UK and 15 other Commonwealth realms, including Canada, Australia and New Zealand, will be dropped as monarch by Barbados next year.
Background
The prosperous West Indies nation will make history by becoming the first country in almost three decades to sever ties with the British royal family and become a republic.
Details
After Barbados became independent in 1966 after 341 years of British rule, it chose to retain a formal link with the British royal family, as did other self-governing Commonwealth nations such as Canada and Australia.

However, the decision to not sever ties completely was not without controversy, and even the first prime minister of Barbados had thought to do so.

In 1998, a constitutional review commission in the country recommended that Barbados become a republic.

The announcement does not come as a surprise to Britain, and both the British royal family and the UK foreign ministry have reacted by saying that the decision was up to the people of Barbados.

The Caribbean nation is, however, expected to remain a member of the Commonwealth of Nations, the 54-nation club of mostly former British colonies which is led by the queen, and includes India.

In the Caribbean region, Barbados will now follow the lead of Guyana, who dropped the queen as head of state in 1970, Trinidad and Tobago in 1976 and Dominica in 1978.

The decision could also have an effect on Jamaica, whose prime minister has pledged to hold a referendum on the topic.

The Royal family's legal ties with India were severed after the country became a republic in 1950, but continued with Pakistan, which did not adopt its first constitution until 1956.