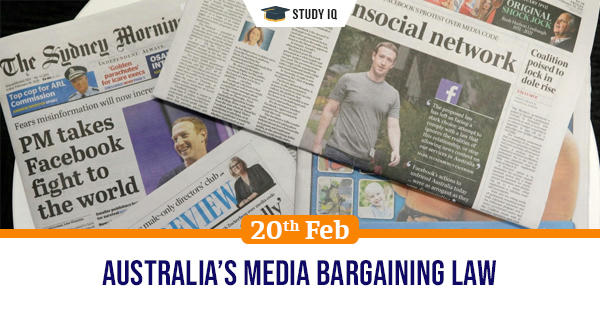 Australia's media bargaining law
Date: 20 February 2021
Tags: Miscellaneous
Issue
Facebook has decided to black out news content from its social networking platform in Australia.
Background
The Australian government has introduced a new bargaining law to control social media giants. The response of Facebook is based on the law.
Details
Australia's new media bargaining code requires big tech companies like Google and Facebook to enter into agreements with news outlets that result in a commercial contract for showing the latter's content on their platforms.

At the moment, news publishers get only a portion of the ad revenues generated from their content, or revenue from an agreement like for generating instant articles.
Facebook's issue
Facebook says that the code fundamentally misunderstands the relationship between our platform and publishers who use it to share news content.

It says that publishers willingly choose to post news on Facebook, as it allows them to sell more subscriptions, grow their audiences and increase advertising revenue.
Implications
Across the world, publishers have used Facebook as a means to reach out to audiences who use it as a content consumption platform, thus increasing their reach and revenues.

Users too re-share a lot of news content, adding to their virality. All this results in millions of visits for news sites referred from Facebook's timeline.

Publishers also have commercial agreements in place with Facebook to allow the social network to host their content in the form of Instant Articles that open faster than publisher pages.

Facebook and Google rightly fear the action in Australia could trigger similar laws across the world.