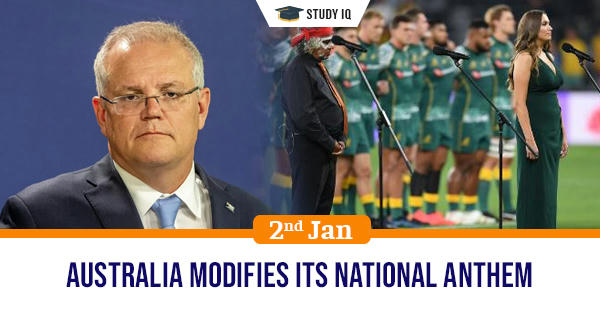 Australia modifies its national anthem
Date: 02 January 2021
Tags: Miscellaneous
Issue
Australia's Prime Minister has made a surprise announcement that the government will remove a reference to the country being "young and free" in the national anthem.
Background
The move comes weeks after certain leaders of Australia's indigenous community said that the line "we are young and free" in the anthem dismissed centuries of indigenous history.
Details
'Advance Australia Fair' was written in 1878, but it became the official national anthem only in 1984. Critics say the words that reads "for we are young and free", is an attempt at historical revisionism.

Critics say the word "young" in the national anthem had implied that Australia's history only starts with colonisation.

Australia marks January 26 as the date when the "First Fleet" sailed into Sydney Harbour in 1788, carrying mostly convicts and troops from Britain. But many indigenous people in the country refer to Australia Day as "Invasion Day".

The change that takes effect on January 1, is the first amendment to 'Advance Australia Fair' since 1984. Now the lyrics will read: "Australians all let us rejoice/ for we are one and free".

While some indigenous Australians, have welcomed the change, there have been others who have criticised what is essentially a symbolic move.

The reactions to the change have been mixed across the country. Some say it is an acknowledgment that Aboriginal and Torres Strait Islander cultures date back 65,000 years, while other have been critical of the move to remove the word "young".