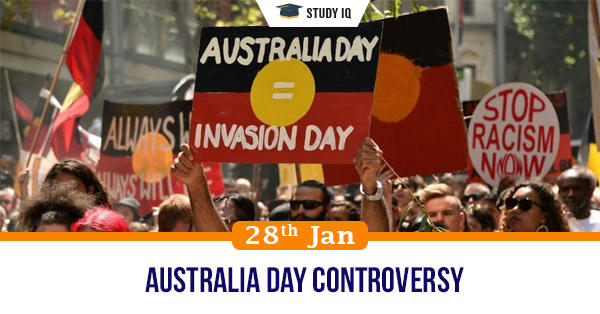 Australia Day controversy
Date: 28 January 2021
Tags: Miscellaneous
Issue
January 26 is observed as Australia Day in the country to commemorate the arrival of the "First Fleet" of ships at Sydney from Britain in 1788.
Background
The celebration has become controversial because of a "change the date" campaign, which demands the date of Australia Day be changed from January 26 to May 9.
Details
Critics call it "Invasion Day" or "Survival Day" as it marks the beginning of dispossession of the continent's indigenous people.

On May 9 in 1901, Australia's first parliament was opened and the six British colonies united to form the Commonwealth of Australia.

The Aboriginals and Torres Strait Islander people see January 26 as the day when colonists took over their lands and they maintain that their people continue to suffer the effects of colonisation and racism.

The First Australians (indigenous people) associate the day as the beginning of the time when they suffered massacres, land theft, stolen children, and oppression.

The purpose of changing the date is to recognise that many people value having a special day to celebrate the place they call home.

There is the idea that Australia Day should be abolished as a national holiday, arguing that there is nothing to celebrate until more work is done towards bringing social justice for the indigenous people.

Prime Minister Morrison has been critical of those supporting the change-the-date campaign and has said that the day should be acknowledged as the time when Australia began its journey as a modern nation.

Several people have been arrested in Sydney for breaking COVID-19 restrictions while they took part in rallies calling for the date of the day to be changed.