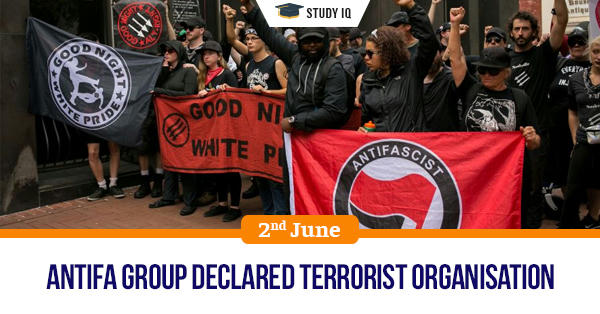 Antifa group declared terrorist organisation
Date: 02 June 2020
Tags: Miscellaneous
Issue
As massive protests following the death of George Floyd continued to rock the United States, President Donald Trump announced that the far-left group Antifa would be designated as a terrorist organisation by his government.
Background
Even in the past, Trump has described Antifa as a terrorist group. Other right-wing politicians have also criticised the group.
Details
The group made headlines in June last year when its members clashed with those of a far-right group called Proud Boys in Portland, Oregon. The violence left members of both sides injured, including a journalist.

Antifa has been around for several decades, though accounts vary on its exact beginnings. The term dates as far back as Nazi Germany, describing 'antifa' as borrowed from German Antifa, short for antifaschistische 'anti-fascist', in Antifaschistische Aktion (multiparty front initiated by the German Communist Party in 1932 to counter Nazism) and in other.

While the movement has had a presence in several European countries and has come into focus in the United States in recent years, Antifa does not have a formal organisational structure.

Antifa members typically dress in black and often wear a mask at their demonstrations, and follow far-left ideologies such as anti-capitalism. They take up causes such as LGBTQ and indigenous rights. What makes them stand out is the violence.

Apart from public counter-protests, Antifa members run websites that track white extremist and ultra-right groups.

Antifa groups do not have a uniform presence in the US, with their activity most prominent in the states of Oregon (which includes Portland), California, Texas, and Pennsylvania.

Because of Antifa's repeated involvement in violence, many liberal figures have criticised the group for bringing disrepute to existing anti-fascism movements in the country.