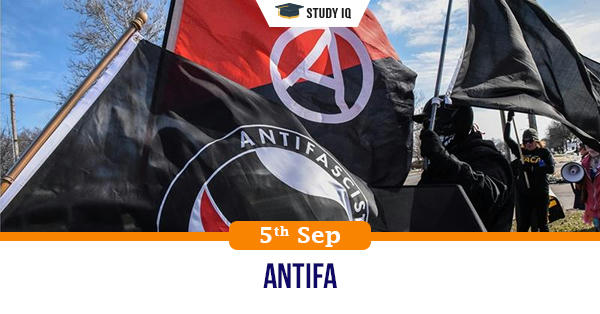 Antifa
Date: 05 September 2020
Tags: Miscellaneous
Issue
US law enforcement agents killed an Antifa supporter, who was a suspect in the fatal shooting of a right-wing activist who was part of a pro-Trump caravan.
Background
US officials were monitoring Antifa, claiming it is at the heart of violence in cities around the country.
Details
President Donald Trump had announced that the far-left group Antifa would be designated as a terrorist organisation by his government.

Even in the past, Trump has described Antifa as a terrorist group. Other right-wing politicians have also criticised the group.

The group made headlines last year when its members clashed with those of a far-right group called Proud Boys in Portland. The violence left members of both sides injured.

Antifa has been around for several decades, though accounts vary on its exact beginnings. The term dates as far back as Nazi Germany, as borrowed from German Antifa, short for antifaschistische 'anti-fascist'.

While the movement has had a presence in several European countries and has come into focus in the United States in recent years, Antifa does not have a formal organisational structure..

The movement has been known to have a presence in the US in the 1980s. It shot into prominence following the election of President Trump in 2016, with violence marking some of its protests and demonstrations.

Antifa members typically dress in black and often wear a mask at their demonstrations, and follow far-left ideologies such as anti-capitalism. They take up causes such as LGBTQ and indigenous rights. What makes them stand out is the violence.

Apart from public counter-protests, Antifa members run websites that track white extremist and ultra-right groups.

The current group of Antifa members appears to be a loose affiliation of activists opposing right-wing groups and white supremacists.

Because of Antifa's repeated involvement in violence, many liberal figures have criticised the group for bringing disrepute to existing anti-fascism movements in the country.