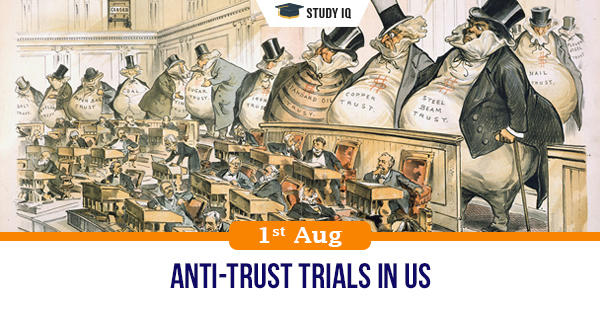 Anti-trust trials in US
Date: 01 August 2020
Tags: Miscellaneous
Issue
The US Congress has grilled the top bosses of the big four technology companies, Google, Facebook, Amazon, and Apple, and sought to know if they had become too big to fail and if they were stifling the competition from other smaller companies.
Background
Technology companies such as Google, Facebook, Amazon, and Apple have been under the radar of governments in many countries for being big spenders and trying to steamroll competition by either buying them or pushing other vendors to avoid working with their competitors.
Details
The US Congress and an antitrust panel of the House Judiciary Committee began a probe into the nature and working of four biggest names in technology space.

The panel collected documents and testimonies from workers of these firms and from rivals on whether the big four had in any way tried to push them out of the market using unfair means.

Search engine giant Google has often been asked about its dominance on the service, and whether it promotes its own products on its platform instead of rivals, even if the latter provides better service.

On a specific question which sought to know whether Amazon had ever used seller data for its own benefit, Bezos said that though the company had a policy against the same, he could not guarantee that the policy had never been violated.

Google CEO Sundar Pichai made a commitment to the house panel that it will not tilt or skew the searches in favour of one candidate or another before the upcoming elections in November.

Facebook founder Mark Zuckerberg had been accused of using money power to outright buy competition and then push them aggressively against other competitors in the market.

The panel has talked to various employees working at these organisations, their rivals, and collected as many as 1.3 million documents from public hearings and such interviews.

The House panel will take into account the statements made by them and then come out with a report on whether these companies had avoided all liability of following fair trade practices.

The house panel has also looked into the use of data by these companies and whether they had followed the sensitive data protection norms set in place by various states across the US.