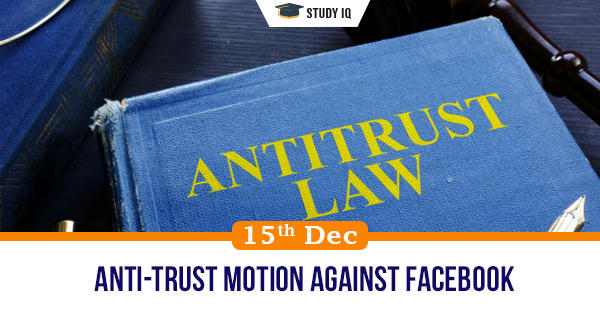 Anti-trust motion against Facebook
Date: 15 December 2020
Tags: Miscellaneous
Issue
The United States federal government and state governments have filed lawsuit against Facebook for irregularities in acquisition of Instagram and WhatsApp.
Background
The US Federal Trade Commission (FTC)'s lawsuit accused Facebook of eliminating competition with the acquisitions.
Details
Facebook's 2012 acquisition of Instagram for $1 billion and the 2014 acquisition of WhatsApp for $19 billion are being cited as attempts to illegally eliminate competition.

The FTC has alleged that Facebook is illegally maintaining its personal social networking monopoly through a years-long course of anticompetitive conduct.

The case has been filed under Section 2 of the Sherman Act. Section 2 of the Sherman Act prohibits companies from using anti-competitive means to acquire or maintain a monopoly.

The lawsuit cites how Facebook restricted its third-party software developers' access to valuable interconnections to its platform by exercising strict control over its application programming interfaces or APIs.
Aim of lawsuit
The lawsuit seeks divestitures of assets, including Instagram and WhatsApp. So if the FTC wins, Facebook might be forced to sell Instagram and WhatsApp.

The FTC also wants to prohibit Facebook from imposing anti-competitive conditions on software developers. This means Facebook will have to seek prior notice and approval for future mergers and acquisitions.
Competition Commission of India (CCI)
Competition Commission of India is a statutory body of the Government of India responsible for promoting competition throughout India and to prevent activities that have an appreciable adverse effect on competition in India.

CCI consists of a Chairperson and 6 Members appointed by the Central Government.

The Commission is required to give an opinion on competition issues on a reference received from a statutory authority established under any law and to undertake competition advocacy, create public awareness and impart training on competition issues.
Goals of the organisation
Make the markets work for the benefit and welfare of consumers.

Ensure fair and healthy competition in economic activities in the country for faster and inclusive growth and development of the economy.

Implement competition policies with an aim to effectuate the most efficient utilization of economic resources.

Develop and nurture effective relations and interactions with sectoral regulators to ensure smooth alignment of sectoral regulatory laws in tandem with the competition law.

Effectively carry out competition advocacy and spread the information on benefits of competition among all stakeholders to establish and nurture competition culture in Indian economy.