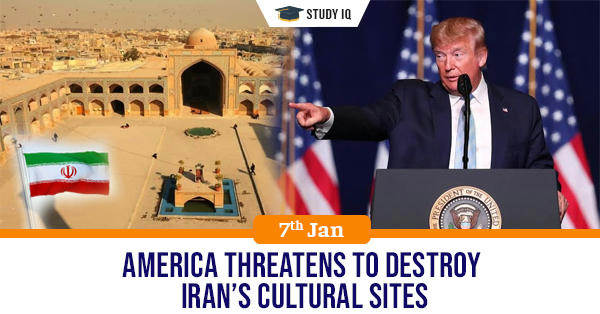 America threatens to destroy Iran's cultural sites
Date: 07 January 2020
Tags: Miscellaneous
Issue
President Donald Trump has said that if Iran strikes any Americans, or American assets in retaliation, the US would target 52 sites in Iran, some of which are important to Iran & the Iranian culture.
Background
Iran is home to one of the world's oldest civilisations dating back to 10,000 BC. Its rich heritage and culture is an amalgam of Arab, Persian, Turkish and South Asian cultures.
Details
Twenty-four Iranian sites are on UNESCO's World Heritage List, two of which are natural sites and the rest cultural sites.

Among the main World Heritage Sites in Iran are the Meidan Emam and Masjed-e-Jame in Isfahan, the Golestan Palace in the historic heart of Tehran, Pasargadae and Persepolis, capitals of the Achaemenid Empire and the archaeological site of Takht-e Soleyman, which has the remains of an ancient Zoroastrian sanctuary.
Protection of cultural sites
Following the unparalleled destruction of cultural heritage in World War II, the nations of the world adopted at The Hague in 1954, The Convention for the Protection of Cultural Property in the Event of Armed Conflict, the first international treaty focussed exclusively on the protection of cultural heritage during war and armed conflict.

The Convention defined cultural property as "movable or immovable property of great importance to the cultural heritage of every people, such as monuments of architecture, art or history, whether religious or secular, archaeological sites etc".

The signatories, referred to in the Convention as "the High Contracting Parties", committed themselves to protecting, safeguarding, and having respect for cultural property.

There are currently 133 signatories to Convention, including countries that have acceded to and ratified the treaty. Both the United States and Iran (as well as India) signed the Convention on May 14, 1954, and it entered into force on August 7, 1956.

The Rome Statute of 1998, the founding treaty of the International Criminal Court, describes as a "war crime" any intentional attack against a historical monument, or a building dedicated to religion, education, art, or science.
International Criminal court
The International Criminal Court started functioning in 2002 with jurisdiction over four main crimes: genocide, crimes against humanity, war crimes, and the crime of aggression.

122 countries are States Parties to the Rome Statute of the International Criminal Court. The United States is a signatory that has not ratified the Statute. India has neither signed nor ratified the Statute.