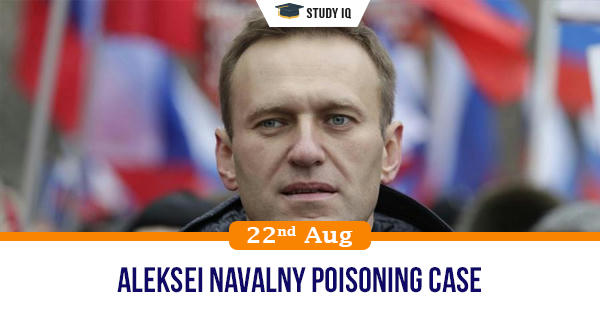 Aleksei Navalny poisoning case
Date: 22 August 2020
Tags: Miscellaneous
Issue
Russia's most prominent opposition leader, Aleksei A. Navalny, was put on ventilator support in a Siberian hospital after he consumed a cup of tea that is suspected to be poisoned.
Background
Last year, Navalny who is a vocal critic of president Vladimir Putin was hospitalised after he suffered an allergic reaction in jail, possibly from an unknown chemical substance.
Details
Navalny, who is a lawyer-turned-activist came to prominence in 2008 after he started exposing corruption in Russian politics through a blog and in 2018, he was barred from standing against Putin in the presidential elections.

He has also been arrested on multiple occasions and since he started political campaigning, Navalny has spearheaded many anti-corruption rallies in Russia and is considered to be the face of the opposition in Russia, a country that has long been known to eliminate dissidents and spies by poisoning them.

Former Russian spy Skripal and his daughter Yulia Skripal were found unconscious on a bench in the British city Salisbury after they were poisoned by a military-grade nerve agent Novichok.

After the poisoning, all Russian intelligence officers working under diplomatic cover in the UK and many other countries were expelled.

An anti-Kremlin activist and Putin critic who is a member of the Russian protest group called Pussy Riot was taken ill after a poisoning attempt that Verzilov alleged was carried out by Russian intelligence services.

In 2017, Putin critic and journalist Kara-Murza fell into a coma after a suspected poisoning attempt. A French lab found elevated levels of heavy metals in his blood.

Former spy Litvinenko, who was being paid by the MI6 and was investigating Spanish links to Russia, was killed in November 2006 after he ingested a fatal dose of polonium 210.

In 2004, Yushchenko was poisoned in the midst of an election campaign, in which he was expected to defeat the Russia-backed candidate.

Russia has long been known to use poison as a way of eliminating political dissidents and spies. They serve as useful symbols of what happens to anyone accused of betraying or otherwise cheating the Kremlin.