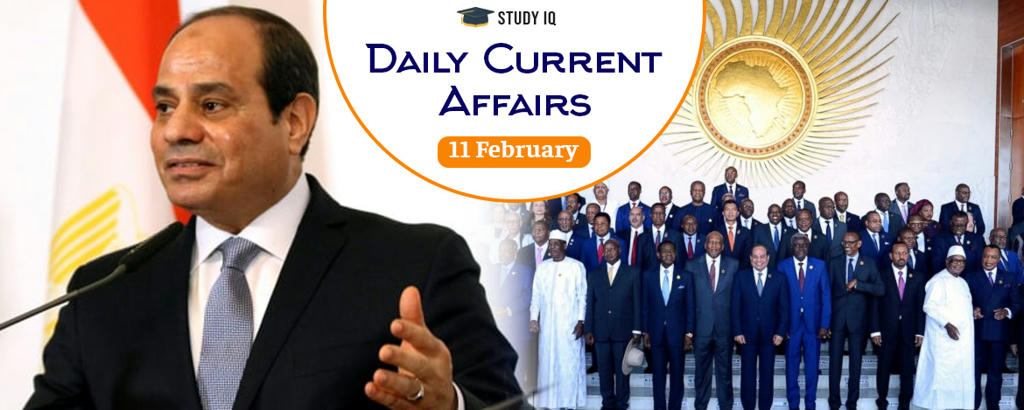 Egypt's President Abdel Fattah al-Sisi elected as chairperson of African Union
Date: 11 February 2019
Tags: International Organizations, Miscellaneous
Egypt's President Abdel Fattah al-Sisi was elected chairperson of African Union (AU) by its 55 member nations at 32nd AU summit held in Addis Ababa, capital city of Ethiopia. He will succeed Rwandan President Paul Kagame (in office from January 2018 to January 2019). The post of AU chairperson rotates annually between five regions of continent. This is for first time since establishment of AU, Egypt has assumed top seat of the body.
African Union
It is pan-Africa continental union consisting of 55 countries. Its structure is loosely modelled on that of European Union.

It aims at promoting unity and cooperation among African nations and strive to spread democracy and good governance in the continent.

It seeks to accelerate process of integration in continent to enable it play its rightful role in global economy while addressing multifaceted social, economic and political problems.

It was founded in May 2001 in Addis Ababa, Ethiopia and launched in July 2002 in South Africa. It had replaced Organisation of African Unity (OAU).

Its secretariat/headquarters i.e. African Union Commission is based in Addis Ababa, Ethiopia.

Its most important decisions are made by Assembly which is a semi-annual meeting of the heads of state and government of its member states.

It also has official bodies such as Peace and Security Council and Pan-African Parliament.