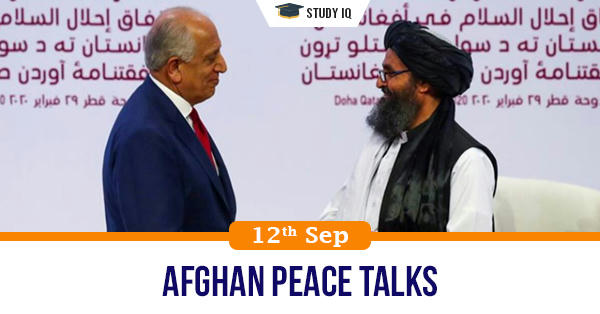 Afghan peace talks
Date: 12 September 2020
Tags: Miscellaneous
Issue
After the Afghan government released the last batch of six Taliban prisoners, both Kabul and the Taliban announced they would begin direct "intra-Afghan" talks on September 12 in Doha.
Background
It is a historic moment, for this is the first time the Taliban, which does not recognise the Afghan government, will sit across the table with government and other delegates to discuss the future of the country.
Details
The intra-Afghan talks (IAT) were originally scheduled to begin on March 10. But the Afghan government alleged there was no "reduction of violence" as the Taliban had promised the US.

The tussle over the release of the last few prisoners, accused of involvement in the killings of American, European and Australian nationals, were also the reason why talks could not be held earlier.

The withdrawal of American troops has taken place alongside. In its February 29 agreement with the Taliban, the US had agreed to bring down its troops to 8,600 (from 12,000), and shut down five bases, within 135 days.

The participants of intra-Afghan negotiations will discuss the date and modalities of a permanent ceasefire, including joint implementation mechanisms, which will be announced along with the completion and agreement over the future political roadmap of Afghanistan.

The Taliban has named Sheikh Abdul Hakim as its lead negotiator. The list was finalised in the first week of September. Some of the names are in line with Pakistan's expectations.

Delhi has been barely involved in the process since it began two years ago, and while it has backed the Afghan government for an "Afghan owned and Afghan led peace process", it has been a marginal player.

Part of this is India's own diffidence about engaging with a process in which it sees Pakistan playing to install the Taliban as its proxy in Kabul.

Delhi is firm it will not engage with the Taliban until it joins the Afghan political mainstream. Instead it has pointed to safe havens in Afghanistan to Pakistani terrorists who target India.

At this moment in India-China relations, the possibility of an enhanced Chinese presence in Afghanistan, in combination with Pakistan and the Taliban, is the real nightmare for India, one that India's Afghan experts are already foreseeing.