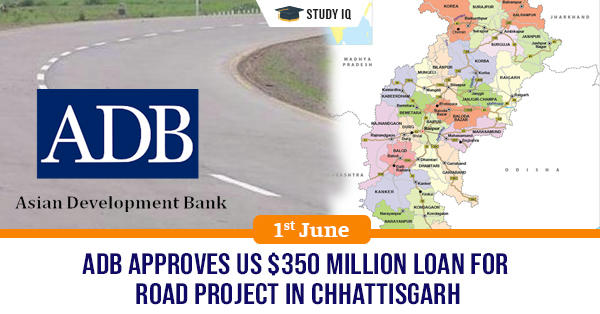 ADB approves US $350 million loan for road project in Chhattisgarh
Date: 01 June 2019
Tags: International Organizations, Miscellaneous
Multi-lateral funding agency Asian Development Bank (ADB) has approved US $350 million loan for road project in Chhattisgarh. The project aims at rehabilitating and upgrading state highways and major district roads in Chhattisgarh, which will improve connectivity and access to basic services and livelihood opportunities.
About Project
It aims to provide safer and higher capacity road connectivity between state capital, district centres, and other rural hubs. It also seeks to provide efficient linkages between existing key corridors.

It will support state government's strategy by rehabilitating or upgrading two state highways and 23 major district roads totalling about 850 kilometres.

The total cost of this project is US $521.69 million of which State Government will finance US $171.69 million.

Significance of Project:

It will boost access of the poor to socio-economic opportunities and to basic services such as healthcare and education. It will also improve the overall quality of life in influence areas along the roads.
Background
Chhattisgarh is overwhelmingly rural (about 96

%

of the area) ad is rich in natural resources and a major producer of minerals such as coal and iron ore. However, according to 2011 census, poverty levels were at about 38

%

of the population.

There is need for safe and efficient road network to significantly improve state's economy and development, and for poverty reduction in the state.

Currently, Chhattisgarh relies heavily on roads for movement of people and goods, particularly in rural and semi-urban areas. About 70%of the state highways have only single or intermediate lanes, while most major and other district roads are single lanes.
Asian Development Bank (ADB)
It is multilateral lending agency based in Manila, Philippines. It was established on 19 December 1966.

It is collectively owned by its members. It has total 67 members – 48 from Asia-Pacific region (including India) and 19 from outside.

It envisions prosperous, inclusive, resilient, and sustainable Asia and Pacific, while sustaining its efforts to eradicate extreme poverty in the region.

It assists its members, and partners, by providing loans, technical assistance, grants and equity investments to promote social and economic development

It provides finance to both sovereign countries as well as to private entities. It provides soft loans to poorer countries and hard loans to middle-income countries.

Most of its lending is concentrated in five operational areas viz. education, environment, climate Change & disaster management, finance sector development, regional cooperation & integration and private sector lending.