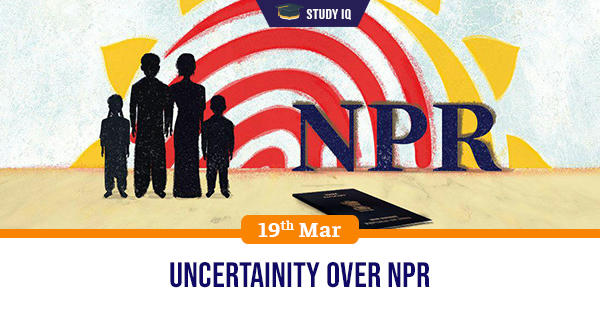 Uncertainity over NPR
Date: 19 March 2020
Tags: Miscellaneous
Issue
At least 13 States, and Delhi, covering almost 60% of the total population of India, are opposed to the revision of the National Population Register (NPR) in the format being prepared by the Centre, even as the nationwide exercise is scheduled to kick off in barely two weeks time on April 1.
Background
Home minister has told that people could choose to not respond to questions, but Chief Ministers and activists have said that this is no guarantee that they would not face any problems in the future.
Details
The Ministry of Home Affairs (MHA) had informed the Lok Sabha that it was in discussion with States that had expressed concerns over the controversial additional questions in the NPR form.

The MHA had informed a parliamentary panel that during works towards updating the NPR 2020, it is proposed to collect data on some additional items like place of last residence, mother tongue, Aadhaar number (voluntary), mobile number, passport (Indian passport holder), voter ID card, driving license number, date and place of birth of father and mother.

Activists have pointed out that as the law stands, not providing information for the NPR can be an offence and the NPR could be used for identifying genuine citizens and doubtful ones.

West Bengal was the first State to announce that it would not canvass the NPR form during the census operations, followed by Kerala. Both States have put the NPR exercise on on hold.