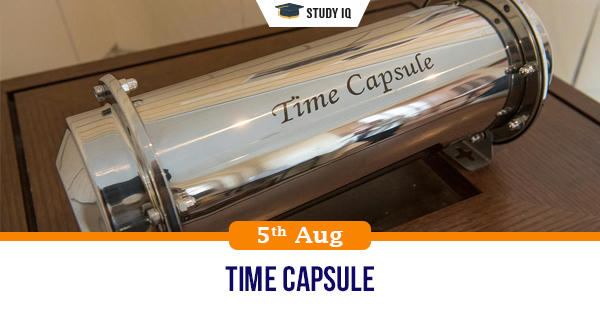 Time capsule
Date: 05 August 2020
Tags: Miscellaneous
Issue
Ahead of the laying of the foundation stone for the Ram temple in Ayodhya, claims and denials have emerged about plans by the Ram Janmabhoomi Teerth Kshetra Trust to put in a time capsule.
Background
The capsule would carry a message about Ayodhya, Lord Ram, and his birthplace and it will be preserved so as to last thousands of years.
Details
Time capsule is a container of any size or shape, which accommodates documents, photos, and artifacts typical of the current era and is buried underground, for future generations to unearth.

The time capsule requires special engineering so that the contents don't decay, even if pulled out after a century. Material such as aluminium and stainless steel are used for the encasing, and documents are often reproduced on acid-free paper.

While the term "time capsule" was coined in the 20th century, among the earliest examples of one dates back to 1777, found by historians inside the statue of Jesus Christ in a church in Spain during restoration work in December 2017.

There have been a number of prominent examples. One time capsule, outside the Red Fort and placed underground in 1972 by Prime Minister Indira Gandhi, was dug out by the subsequent government.

Other time capsules are at a school in Mumbai, IIT-Kanpur, Lovely Professional University in Jalandhar, and Mahatma Mandir in Gandhinagar.

Historians often criticise the idea as being motivated. This exercise is considered inevitably a subjective exercise, geared towards glorification not to construct the real picture.