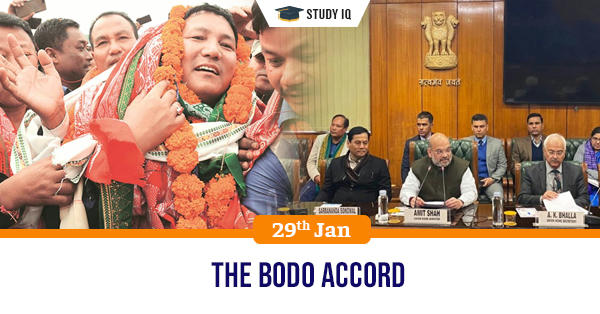 The Bodo accord
Date: 29 January 2020
Tags: Miscellaneous
Issue
The Centre, the Assam government and Bodo groups, including all factions of the militant National Democratic Front of Bodoland (NDFB), have signed an agreement for peace and development.
Background
In 2003, the second Bodo Accord was signed by the extremist group Bodo Liberation Tiger Force (BLTF), the Centre and the state. This led to the BTC. BTC is an autonomous body under the Sixth Schedule of the Constitution.
Details
The most significant point is that Accord marks the end of the armed movement. The coming of all factions of the armed groups together to sign the Accord is a big achievement.

The new Accord provides for alteration of area of BTAD and provisions for Bodos outside BTAD. A commission appointed by the state government will examine and recommend if villages contiguous to BTAD and with a majority tribal population can be included into the BTR while those now in BTAD and with a majority non-tribal population can opt out of the BTR.

The government will set up a Bodo-Kachari Welfare Council for focused development of Bodo villages outside BTAD, which opens up a way to potentially address the needs of Bodos outside BTAD.

It provides for more legislative, executive, administrative and financial powers to BTC; and amendments to the Sixth Schedule of the Constitution to "improve the financial resources and administrative powers of Bodoland Territorial Council.
Bodos
The Bodo are a Tibeto-Burmese-speaking ethnic group in Assam. They are a part of the greater Bodo-Kachari family of ethnolinguistic groups and are spread across northeastern India and clustered strongly in Assam, along the eastern Duars.

Bodos are the single largest community among the notified Scheduled Tribes in Assam.

The Bodo people are recognized as a plains tribe in the Sixth Schedule of the Indian Constitution.

Traditionally, Bodos practiced Bathouism, which is the worshiping of forefathers, known as Obonglaoree. The shijou tree (in the genus Euphorbia) is taken as the symbol of Bathou and worshiped.

In addition to Bathouism, Bodo people also follow Hinduism, especially Hoom Jaygya. The important Hindu festival is the Kherai Puja, where an altar is placed in a rice field.