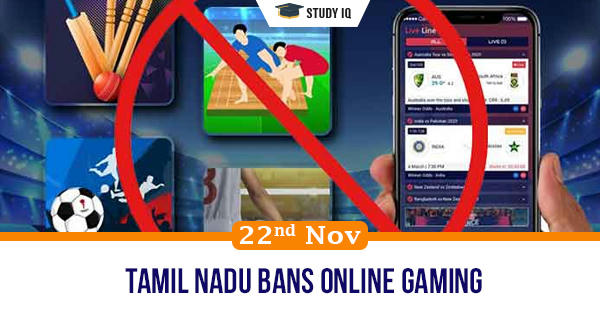 Tamil Nadu bans online gaming
Date: 22 November 2020
Tags: Miscellaneous
Issue
Tamil Nadu Governor Banwarilal Purohit has promulgated an ordinance that banned online gaming in the state.
Details
With the arrival of affordable internet, all the arcade-based multiplayer games moved online. These days, nearly all games are played online when the user connects their device to a central server hosted by the gaming company, most of them are free and meant only for entertainment.

Multiplayer games such as Defense of the Ancients or Dota, Players Unknown's Battleground or PUBG, Counter-Strike (CS) although free for most users, provides the option of buying in-game additions to the player's avatar.

Other multiplayer card games such as Rummy, Blackjack, and Poker require the user to invest some money to enter the game to play with other players across the globe.
Reasons for the ban
Due to online gaming, innocent people, mainly youngsters, are being cheated, and some people have committed suicide.

Many people have become bankrupt and family issues have cropped up between husbands and wives, leading to divorces.
What all are banned?
Any form of wagering or betting in cyberspace by using computers or any other communication device, common gaming houses, and any electronic transfer of funds to distribute winnings or prize money has also been banned.

This effectively means that players in the state will not be able to purchase any add-on for the games they play, go to gaming arcades or participate in online gaming tournaments.
Other states
While gambling and betting as a sport are banned across the country, nearly ten states in India such as Assam, Arunachal Pradesh, Goa, Kerala, Maharashtra, Mizoram, Nagaland, Punjab, Sikkim and West Bengal have their lottery systems.

Most states, however, are opposed to online gambling or betting as there are very few regulations to control the number of players and the investment that can be made in the game.