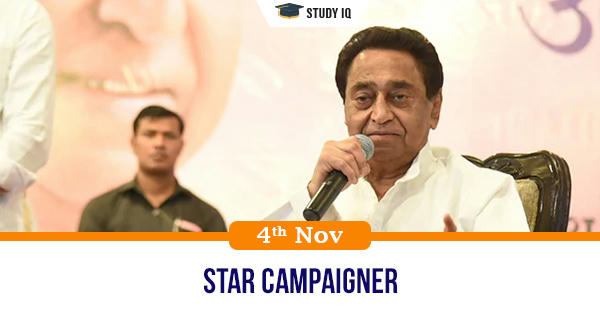 Star campaigner
Date: 04 November 2020
Tags: Miscellaneous
Issue
Former Chief Minister of Madhya Pradesh, Kamal Nath's Star Campaigner status was revoked by the Election Commission for his comments on a woman candidate.
Background
Kamal Nath was campaigning for his party for the bypolls for 28 constituencies that is scheduled to take place.
Details
There is no law that defines who is a star campaigner. It is a status that political parties contesting an election give to certain big names who the parties feel have more vote-fetching ability in the polls than others.

A star campaigner is a celebrity vote seeker in an election for a party. This person can be a politician or even a film star. There is no law governing who can or cannot be made a star campaigner.

They are nominated by the concerned political parties specifying their constituencies and duration of the status.

A 'recognised' party declared as such by the Election Commission -- can nominate a maximum of 40 star campaigners. An unrecognised political party can nominate a maximum of 20 star campaigners.
Importance of star campaigner
Expenditure incurred on electioneering by the star campaigner is not added to a candidate's poll expenditure giving him/her more leeway. These expenses will be borne by the political parties.

For candidate to avoid campaign expenditure, the star campaigner has to limit oneself to general campaigning for the party.

If she/he shares stage with a candidate, the entire campaign cost except expenditure incurred on travelling will added to the candidate's election expenses. This applies even if the star campaigner seeks vote for the candidate taking his or her name.

If more than one candidates share the stage with the star campaigner, the expenditure incurred on the rally will be shared equally by the contestants.

If the candidates are not present but their posters or photographs have been displayed in their constituencies where a star campaigner holds a poll rally, the entire expense will be added to the election expenses of the contestants.
Ministers as star campaigners
If the Prime minister or a former prime minister is star campaigner, the expenditure incurred on security including on the bullet-proof vehicles will be borne by the government and will not be added to the election expenses of the party or the individual candidate.

If another campaigner travels with the prime minister or a former minister, the individual candidate will have to bear 50 percent of the expenditure incurred on the security arrangements.
Representation of Peoples Act
The Representation of the People Act, 1951 provides for the conduct of election of the Houses of Parliament and to the House or Houses of the Legislature of each State, the qualifications and disqualifications for membership of those Houses, the corrupt practices and other offences at or in connection with such elections and the decision of doubts and disputes arising out of or in connection with such elections.