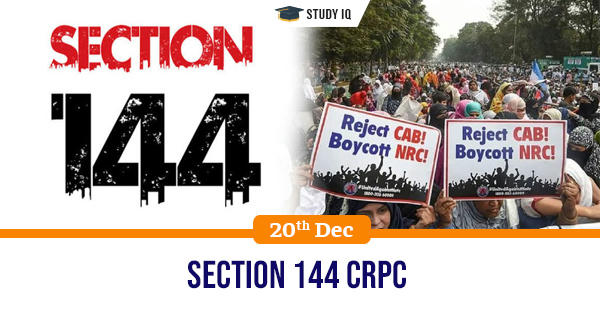 Section 144 CrPC
Date: 20 December 2019
Tags: Miscellaneous
Issue
As the protests on CAA has intensified, state governments have sought to control the demonstrations by issuing prohibitory orders under Section 144 of the Code Of Criminal Procedure (CrPC), 1973.
Background
According to 141-149 of the Indian Penal Code (IPC), the maximum punishment for engaging in rioting is rigorous imprisonment for 3 years and/or fine. Every member of an unlawful assembly can be held responsible for a crime committed by the group.
Details
Section 144 CrPC, a law retained from the colonial era, empowers a district magistrate, a sub-divisional magistrate or any other executive magistrate specially empowered by the state government in this behalf to issue orders to prevent and address urgent cases of apprehended danger or nuisance.

The magistrate has to pass a written order which may be directed against a particular individual, or to persons residing in a particular place or area, or to the public generally when frequenting or visiting a particular place or area.

This usually includes restrictions on movement, carrying arms and from assembling unlawfully. It is generally believed that assembly of three or more people is prohibited under Section 144.

No order passed under Section 144 can remain in force for more than two months from the date of the order, unless the state government considers it necessary. Even then, the total period cannot extend to more than six months.
Criticism of section 144
The criticism is that it is too broad and the words of the section are wide enough to give absolute power to a magistrate that may be exercised unjustifiably.

Imposition of Section 144 to an entire state has also drawn criticism since the security situation differs from area to area.
Way forward
Occasions may arise when it is not possible to distinguish between those whose conduct must be controlled and those whose conduct is clear, hence its application becomes necessary.

A general order may be necessary when the number of persons is so large that the distinction between them and the general public cannot be made.

The efficacy of the provision is to prevent some harmful occurrence immediately. Therefore, the emergency must be sudden and the consequences sufficiently grave for implementing this provision.