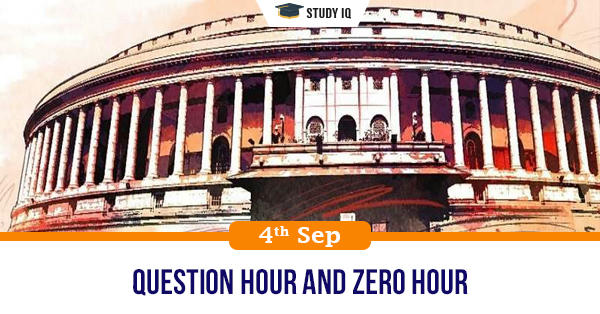 Question hour and Zero hour
Date: 04 September 2020
Tags: Miscellaneous
Issue
The Lok Sabha and Rajya Sabha secretariats notified that there will be no Question Hour during the Monsoon Session of Parliament.
Background
Opposition MPs have criticised the move, saying they will lose the right to question the government.
Details
Question Hour is the liveliest hour in Parliament. It is during this one hour that Members of Parliament ask questions of ministers and hold them accountable for the functioning of their ministries.

The questions that MPs ask are designed to elicit information and trigger suitable action by ministries.

Their questions have exposed financial irregularities and brought data and information regarding government functioning to the public domain.

While Question Hour is strictly regulated, Zero Hour is an Indian parliamentary innovation. The phrase does not find mention in the rules of procedure.

Parliament has comprehensive rules for dealing with every aspect of Question Hour. And the presiding officers of the two houses are the final authority with respect to the conduct of Question Hour.

Parliamentary rules provide guidelines on the kind of questions that can be asked by MPs. Questions have to be limited to 150 words.

They have to be precise and not too general. The question should also be related to an area of responsibility of the Government of India. Questions should not seek information about matters that are secret or are under adjudication before courts.

It is the presiding officers of the two Houses who finally decide whether a question raised by an MP will be admitted for answering by the government.

Question Hour in both Houses is held on all days of the session. But there are two days when an exception is made. There is no Question Hour on the day the President addresses MPs from both Houses in the Central Hall.

MPs can specify whether they want an oral or written response to their questions. They can put an asterisk against their question signifying that they want the minister to answer that question on the floor.

These are referred to as starred questions. After the minister's response, the MP who asked the question and other MPs can also ask a follow-up question.