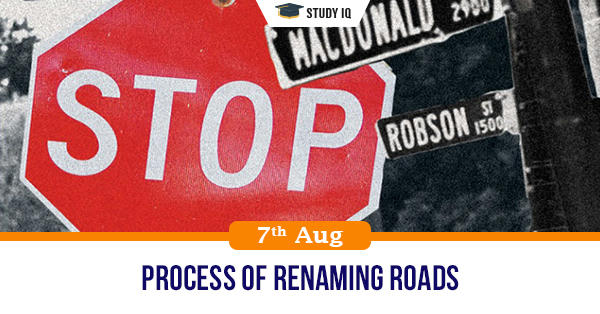 Process of renaming roads
Date: 07 August 2020
Tags: Miscellaneous
Issue
A day before the bhoomi pujan for Ram Temple in Ayodhya, former union minister Vijay Goel defaced the Babar Road signboard in Central Delhi and demanded renaming it.
Background
This is not the first time that such demands for changing a road name has been put forward. However, there is a channel and process through which any name change request goes.
Details
Requests to change names of roads come to agencies that have jurisdiction over the space, in this case New Delhi Municipal Council, from various sources.

Once the request is received, it is sent to the general administration department of NDMC. Thereafter, an agenda is put up before the NDMC council, which is a 13-member body headed by the council Chairperson, that takes the decision.

If the resolution is passed, it is sent to the state road naming authority of the urban development department of the Delhi government for approval.

If the decree directs for the changing of the road name, a letter is also sent to the postmaster general of Delhi by the NDMC indicating that a change has been accepted.

The council has laid down criteria for entertaining such requests as per the guidelines of the Ministry of Home Affairs.

Such requests should have historical relevance, respect the sentiments of people, it must be felt that there is a need to recognise the personality whose name has to be given to the street.

The new names should not create confusion for the post offices and the public and deprive the people of a sense of history.

Historians believe that this exercise deprives people of a sense of history. They also advocate that a ruler's act should be judged in the context in which they had ruled.

There is another school of thought that advocates these changes that believes that rulers like Aurangzeb and Babar were cruel administrators and that there is no reason to honour them by naming a road after them.

The main expense is related to repainting street signs and making the names of civic corporations consistent with the city's name. One has to paste the letters in with reflective tape or engrave it.