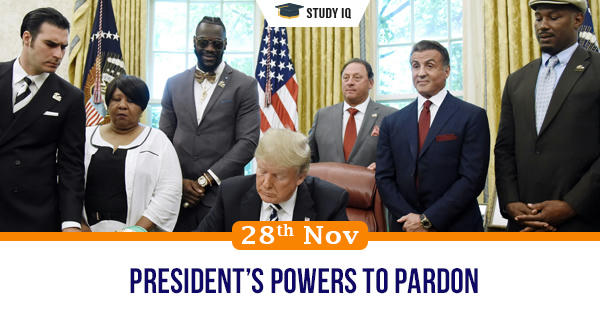 President's powers to pardon
Date: 28 November 2020
Tags: Miscellaneous
Issue
US president Donald Trump has pardoned his long standing advisor and former NSA Michael Flynn for his role in lying to FBI.
Background
The President of US has the constitutional right to pardon or commute sentences related to federal crimes. This power is considered absolute and unconditional.
Details
The power only applies to federal crimes and not state crimes that come under state laws. They can still be tried under state laws.

The pardoning powers of the Indian President are elucidated in Art 72 of the Indian Constitution. There are five different types of pardoning which are mandated by law.

President can grant pardon to a person awarded death sentence. But a governor of a state does not enjoy this power.

The pardoning power of the president is not absolute. It is governed by the advice of the Council of Ministers. This has not been discussed by the constitution but is the practical truth.

The President can return the considerations of the cabinet once but has to give assent if Council of Ministers decides against any change.
Types of pardons
Pardon: means completely absolving the person of the crime and letting him go free. The pardoned criminal will be like a normal citizen.

Commutation: means changing the type of punishment given to the guilty into a less harsh one, for example, a death penalty commuted to a life sentence.

Reprieve: means a delay allowed in the execution of a sentence, usually a death sentence, for a guilty person to allow him some time to apply for Presidential Pardon or some other legal remedy to prove his innocence or successful rehabilitation.

Respite: means reducing the quantum or degree of the punishment to a criminal in view of some special circumstances, like pregnancy, mental condition etc.

Remission: means changing the quantum of the punishment without changing its nature, for example reducing twenty year rigorous imprisonment to ten years.